200,000+
Alumni from our Global Campuses
Nothing compares to being there.
The Global Master of Arts in International Relations (Global MA) program, offers students the opportunity to earn a master's degree and a graduate certificate through eleven months of worldwide travel and immersive education. Traveling with a cohort, students study in four countries, across multiple continents, benefiting from the combined knowledge of outstanding scholars and practitioners in the field.
Along the way, students are challenged to go beyond their textbooks to gain first-hand exposure to the world of international relations by visiting with professionals at local, national, and international organizations working on issues such as global poverty, international and regional security, human rights, and economic development.
Welcome to the World of Webster University
Campus Locations
Support Resources for Student Success
Join Webster's Global Community
All Webster students benefit from our teams of advisors, counselors, tutors, and support staff. Get scheduling assistance, academic support, and more, no matter where you are.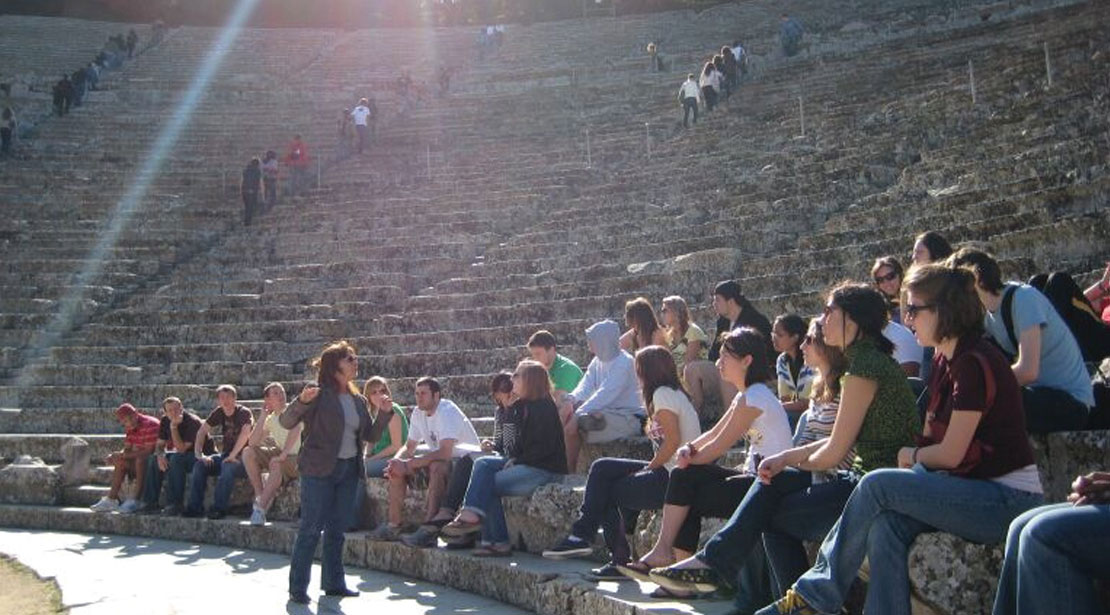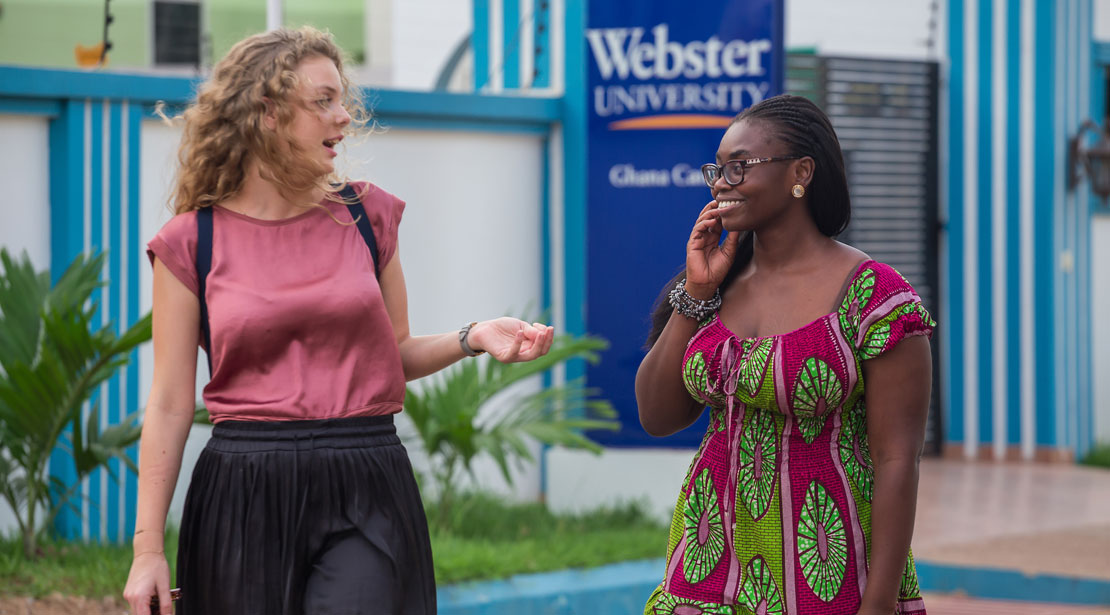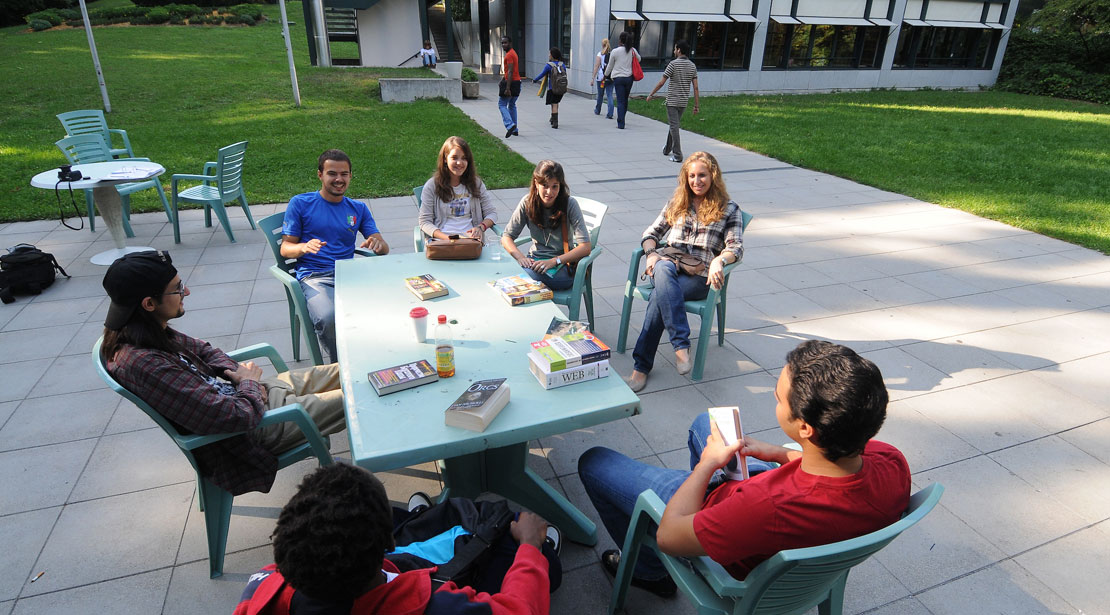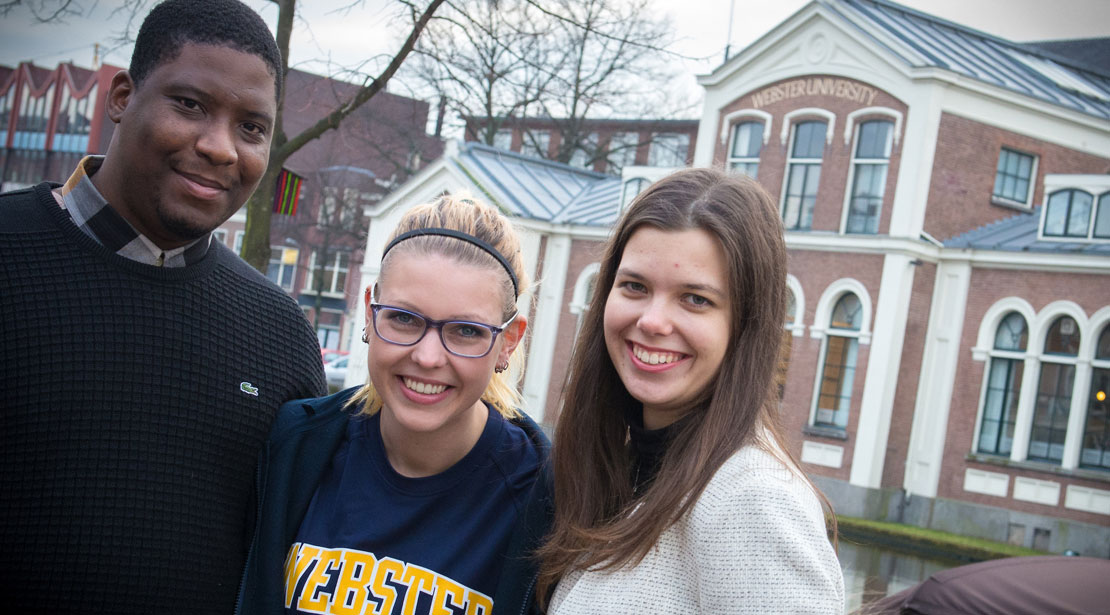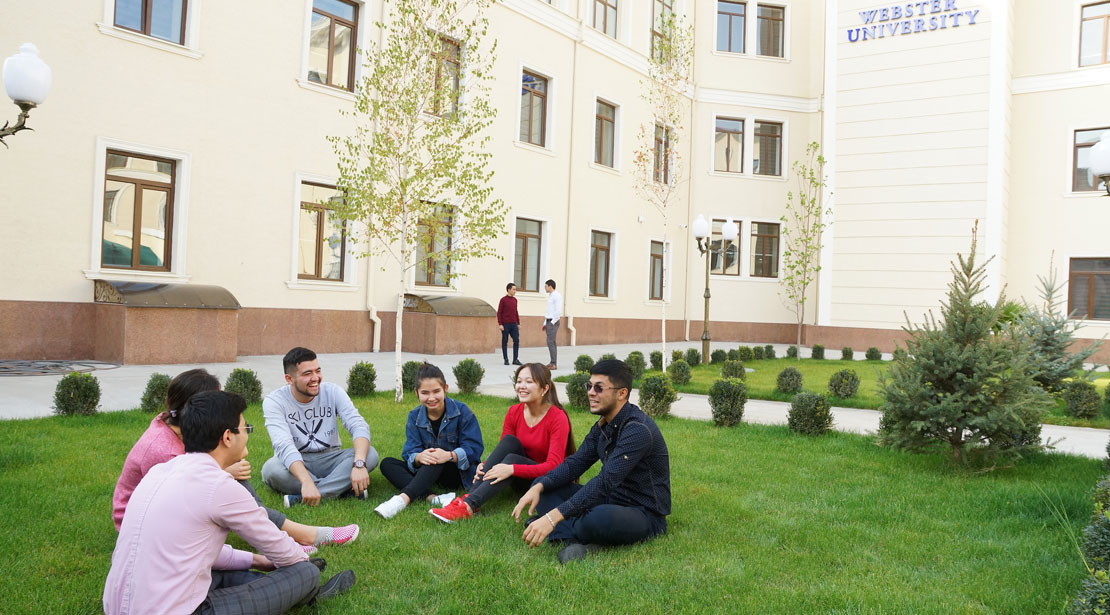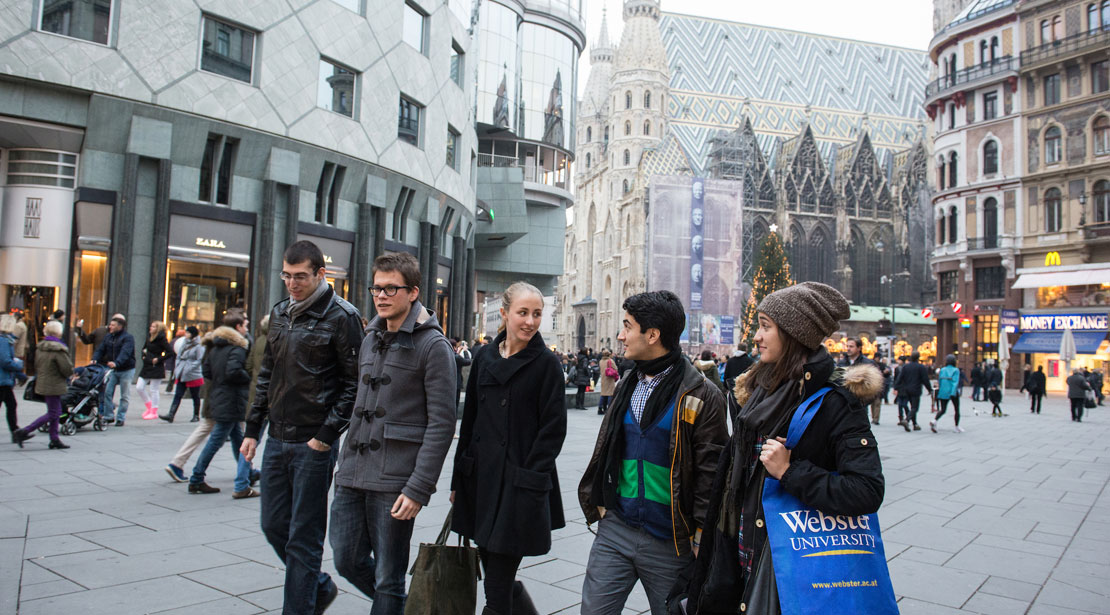 Get Started on Your Program
Take the next step toward earning your degree. We are here to help.
Frequently Asked Questions
Webster began offering this innovative program in August of 2006. The Global MA in International Relations (GMAIR) program blends theory and practice, as students learn about international relations, and international and nongovernmental organizations while being immersed in four different countries as part of our global campus network.
Global MA students follow a pre-determined course schedule and order of campuses, spending terms in four different locations. Students travel in a cohort to four campuses in the following locations:
Accra, Ghana
Athens, Greece
Geneva, Switzerland
Leiden, the Netherlands
St. Louis, the United States
Vienna, Austria
Students are able to complete the Global MA program in just eleven months because of the full-time, accelerated nature of the course offerings and program structure. At the host campuses, Webster's GMA students are integrated with local Webster University students and are taught by expert faculty. The GMA combines traditional classroom courses with important political, cultural, and historical site visits. The program also has a professional seminar component the provides students the professional and career advice.
*This program may be affected by the COVID-19 pandemic or other global events. In the event of any program changes or cancellations prior or mid-program, the University will notify applicants and students. Where possible, the University will provide alternative options.
This program is excellent for academically strong students who have a passion for international relations and/or possibly working for government, or an international or nongovernmental organization in the future; love to travel, experience new cultures and meet interesting people; are flexible, especially with change and a bit of ambiguity; self-disciplined; work well in groups (since you'll be traveling in a cohort); and have healthy ways to manage the inevitable stress of a rigorous global graduate program.
Global. Action Oriented. Academically Excellent. Student-Centered.
With its home campus in St. Louis, Missouri, USA, Webster University comprises an action-oriented global network of faculty, staff, students and alumni who forge powerful bonds with each other and with their communities around the globe. Founded in 1915, Webster is a independent nonprofit university with students studying at campus locations in North America, Europe, Asia, and Africa, and in a robust learning environment online. The University is committed to ensuring high-quality learning experiences that transform students for global citizenship and individual excellence.
Courses offerings vary depending depending on cohort rotation; however all students will develop a breadth and depth of international relations that includes subjects such as:
International Security
International Organizations
International Law
International Political Economy
Human Rights and Humanitarian Issues
International Development
Environmental Protection
Please visit the online Graduate Catalog for the curriculum and course description.
The program takes students beyond the textbooks and provide a first-hand glance at the practical world of international relations. Students will have many opportunities to visit various international institutions and organization such as the United Nations, OPEC, the EU Parliament, NATO, the International Criminal Court, the Permanent Court of Arbitration, the International Committee of the Red Cross, and the Organization for Security and Cooperation in Europe. Students can also attend professional conferences and receptions allowing them to network and pursue career goals.
Global MA students spend approximately 10 hours per week in class (and can expect to spend additional time — approximately 20-30 hours — outside of class with prep work, reading, and research).
Each 3-credit-hour course meets four hours per week for nine weeks unless it is designated a hybrid with online and on-site visits. Many times, the courses are held once a week in the evening, although at certain locations, classes may be held during the day. The event and conference schedule will vary.
This program allows time for students to explore, travel, and experience cultures (and nightlife); however, students are expected to have the self-discipline to complete their studies. Hence, the appropriate budgeting of time is imperative.
For living accommodations in each study location, students will reside in a variety of student housing depending on the country. Each campus has several on-campus and off-campus housing options.
Accommodations are arranged for students by Webster staff on-site at each location. While we cannot guarantee identical housing for all students, there are certain standards and requirements for Global MA student housing. At all campuses, students will have single accommodations (or at least their own room), Internet access, and access to laundry and kitchen facilities. In addition, all housing will be located within walking distance or with access to public transportation routes, for travel to and from each campus.
There are several student breaks throughout the academic year, where students will take the opportunity to do a variety of things. Some travel back home, especially during the winter break, to visit family and friends; others take the opportunity to travel and explore new cities and sites. When traveling some students travel alone, but many either travel with fellow Global students or with family and friends who might come to visit. There are many cost effective ways to travel, such as traveling on discount airlines in Europe, taking advantage of the extensive train systems in Europe and Asia, and staying in hostels.
Since housing between academic terms is not covered in the program cost, students are encouraged to research housing options that suit their individual needs during breaks. Breaks in between each 9-week term include one break in the winter, spring and summer. Academic breaks are usually one week long, except for winter break (late Dec - early Jan), which is about two weeks.
To alleviate the inconveniences of overweight baggage charges and traveling with heavy luggage during breaks, many students choose to ship some of their belongings to the next campus, whether by using the local post or FedEx in each location.
Yes! Webster offers a full-range of personalized services to Global MA students throughout the program, helping them to prepare for their professional lives. These services include one-on-one career counseling, as well as online seminars with career planning specialists at the Webster University Career Planning & Development Center, which are designed specifically for Global program students. The Webster Mentoring Program is also available to Global MA students who wish to get connected to a mentor who can offer real-world advice and guidance.
The Global MA program cost for 2021-2022 is $46,600. The cost covers tuition (30 graduate credit hours), housing during each academic term (single occupancy), textbooks, on-site orientation, a mandatory study abroad fee that includes health insurance, an International Student ID card, a guide book for each country, and other pertinent pre-departure materials.
Webster University requires emergency international health insurance coverage, which is provided through HTH Worldwide. This coverage is mandatory for all participants in the program, and is arranged through the Office of Study Abroad. The total program cost will be divided equally over five terms and billed at three points throughout the year for Fall, Spring, and Summer terms.
Students are responsible for all airfare, visa fees, travel expenses throughout the program, housing between academic terms, food, personal expenses, which can vary dramatically based on a student's personal preferences and comfort levels. As a rough guide, Global MA students can plan to spend on average $20,000 to $25,000 throughout the year for these expenses.
Yes! Students should apply for financial aid after January 1, and after they have been accepted. Students must complete both the Free Application for Federal Student Aid (FAFSA) and the Webster University Graduate Financial Aid form, which can be found at the following links:
Note: Webster University's FAFSA school code is 002521.
Financial assistance from Webster University is limited to U.S. citizens and permanent residents who are degree-seeking students at Webster. Webster students retain all federal, state and institutional financial aid while overseas. Most Global MA students also apply for Graduate PLUS loans to help finance the full cost of the program. Students who qualify for the maximum amount for both federal and GradPLUS loans have most, if not all, they need to finance the program.
Webster undergraduate students, who qualify for the Grad to Grad Program, may use their scholarship towards this program. For further information regarding this program, please contact Graduate Admissions. We highly encourage students to seek opportunities for outside sources of funding by creating a student profile on Fastweb.
For additional questions or to schedule an appointment with your financial aid counselor, contact the Financial Aid Office at 314-968-6992 or 1-800-983-4623. Comprehensive financial aid information is also available at the Financial Aid Office.
The $46,600 program cost, which includes tuition, books, housing, and insurance is an incredibly good price. Webster's Global MA program is suitable for people who have the personal resources or can access the right about of private aid and government loans through the FAFSA in order to afford the program and travel costs of studying around the world. Please contact Sheryl Rowden, the financial aid counselor for the Global MA for details about what is available through the FAFSA to graduate students.
For information about private scholarships applicants are encouraged to explore free searchable databases. These include:
The skills, experiences and contacts you develop in the program will make you an excellent candidate for INGO, government, humanitarian, and nonprofit positions, to name a few. Of course, it is up to you to take advantage of your surroundings and make the most of these opportunities.
Many of our graduates from the Global MA in International Relations have had success stories, including internships at the U.S. Department of State, the UN Educational, Scientific and Cultural Organization and the International Criminal Tribunal for the former Yugoslavia; and jobs with a wide variety of governmental and non-governmental organizations, including the UN High Commission of Refugees, the U.S. Department of Homeland Security, the United Nations Environment Program, Chemonics International Inc. (a development consulting firm), and the Woodrow Wilson International Center for Scholars, and the Organization for Security and Co-operation in Europe (OSCE).
There is an initial program deposit. The total amount required for the deposit is $2100. (Note: The deposit is part of the overall program cost, not an addition to it, and is later applied to the student's tuition bill.) Admitted students must submit a $500 partial deposit to the Office of Admission by March 15 to secure their place in the fall cohort. Students will receive a reminder notice for the remaining $1600, which will be due by May 15. (Please note: We will still accept the initial deposit after April 1. Accepted students must let us know their intentions to join the fall cohort by submitting the entire deposit by May 15.) Please note that the program does have a maximum number of students and could fill prior to the March 15 deadline. The only way to secure a spot is by submitting a deposit.
The initial and final deposits are non-refundable after May 1.
Accepted students can make checks or money orders payable to Webster University and mail to:
Webster University
Office of Admission
Re: Global MA Program
470 East Lockwood Avenue
St. Louis, MO 63119-3141
We can also accept your deposit online.
The application deadline is March 1st, or until the class is filled, to start in the August (Fall I) term later that same year.
Steps to apply:
Log in or create an account to begin a graduate application: https://applywu.webster.edu/portal/apply
When asked to choose a program on the "Graduate Academic Plans" section in the application, please select "St. Louis Home Campus" in Location and "Global International Relations (GMA) in Programs.
During the application, you will be asked to submit two recommendations that speak to the applicant's motivation, character and ability to be successful in an intensive, 11-month graduate program that requires significant travel.

One letter should come from a former or current professor.
Recommenders can type or copy/paste a letter into the box they are provided.
Recommendation letters should be written in narrative form.

Submit your complete application and pay the $50 non-refundable application fee.
Order your official degree conferred transcript to be sent to us directly from the school that granted your bachelor's degree. Please also order transcripts for any graduate work or degree you've completed. Electronically is the fastest way to send your transcripts.

If your school sends them directly, they can email it to transcripts@webster.edu (please note the plural).
We also accept electronic transcripts from secure third-party services such as National Student Clearinghouse, Parchment, Escript-Safe, etc.
If your school does not participate in an electronic secure service, please mail your transcripts to:
Webster University
Office of Admission
470 E. Lockwood Ave.
St. Louis, MO 63119

By logging into your application file, you can then upload your required resume or CV.
Students can see more detailed admission requirements here.
**International students, or non-U.S. applicants, should also review the International Student Admission web page for additional requirements they need to submit and more important information.
News & Events
Connect With Us