Get Started Today
Whether you're an undergraduate or balancing a career with a master's degree, study abroad experiences are accessible to all.
From full-semester terms to one-week programs, our international network of campuses and partners, along with financial aid, enable an unprecedented variety of study abroad opportunities. Get started with studying abroad.
We welcome students from across the Webster network and from all universities, including those participating in the Webster International Network of Schools (WINS) program. Find additional details on the WINS page.
Top 2%
Ranking of the study abroad programs surveyed in the 2019 U.S. News & World Report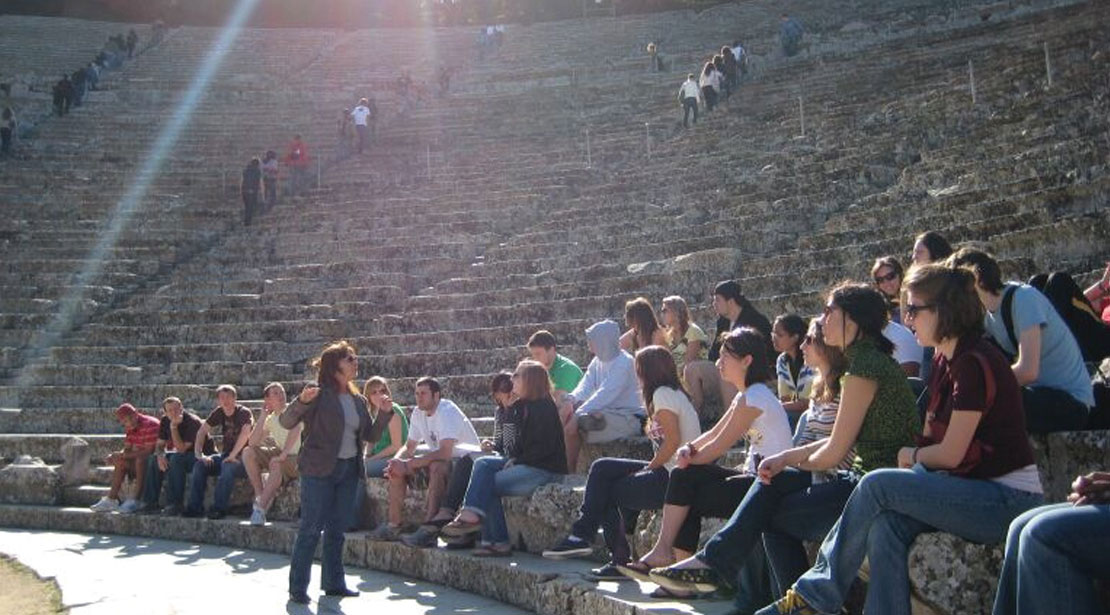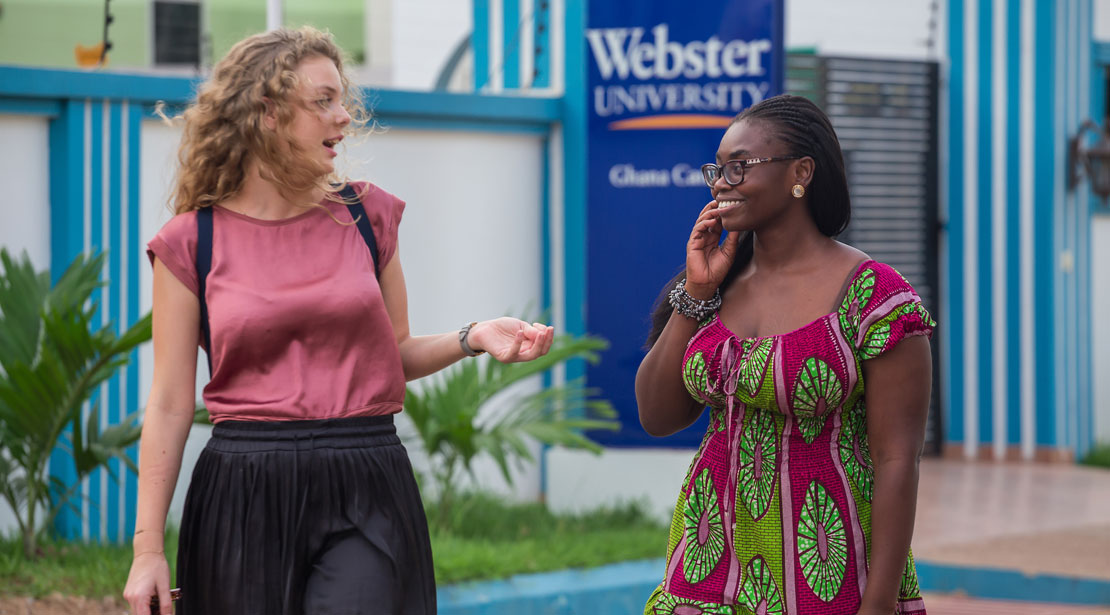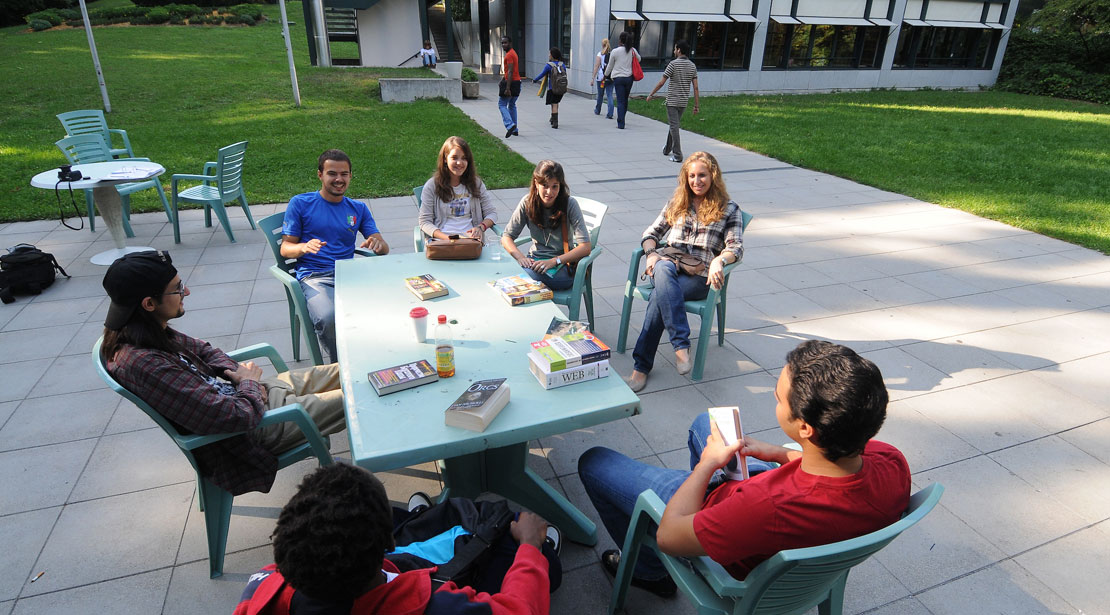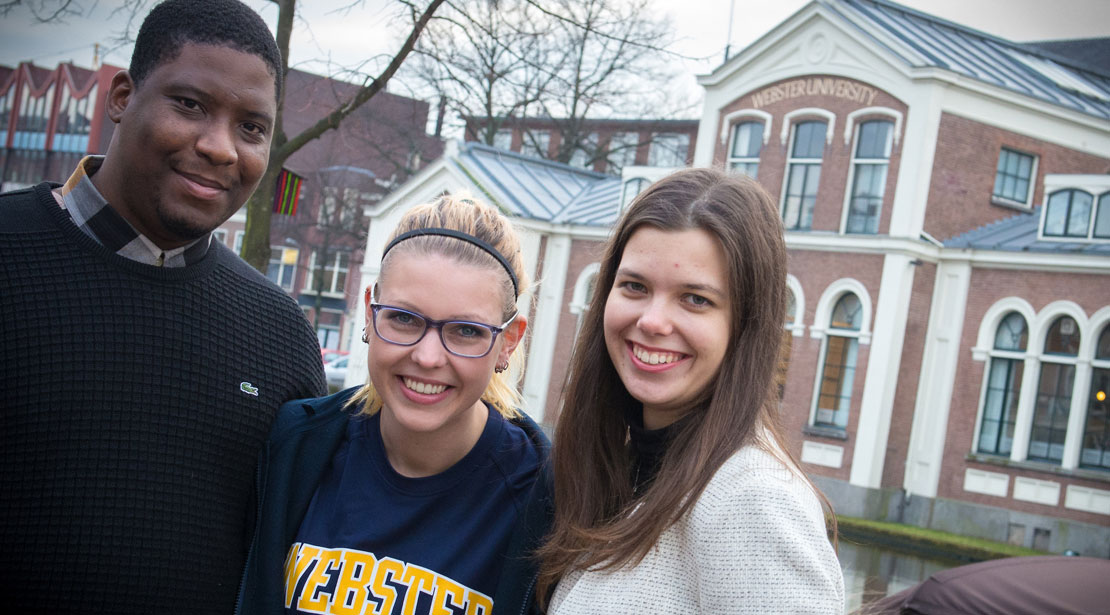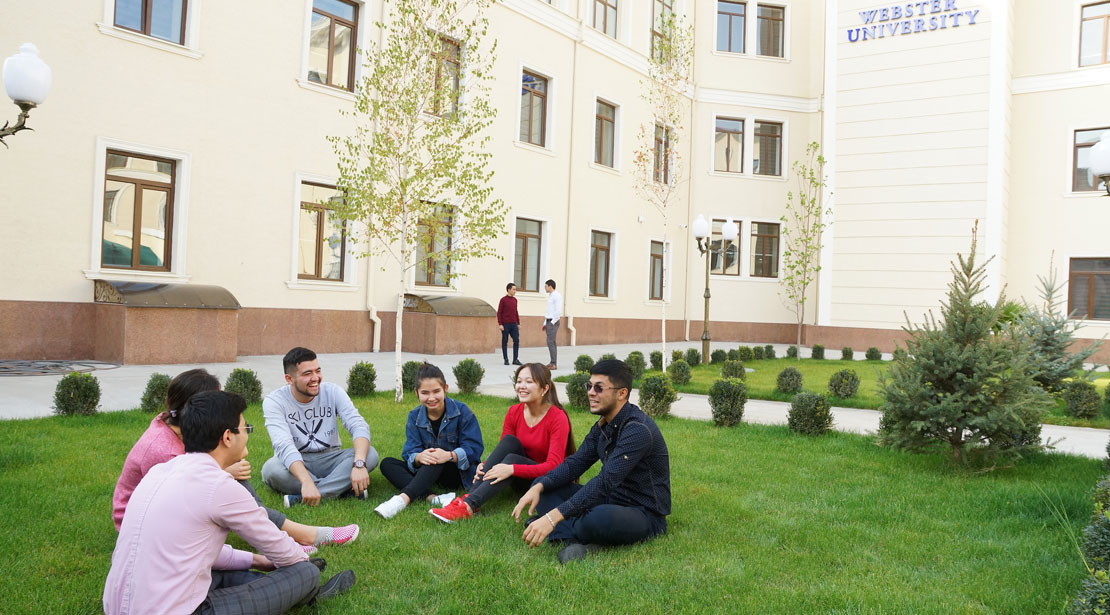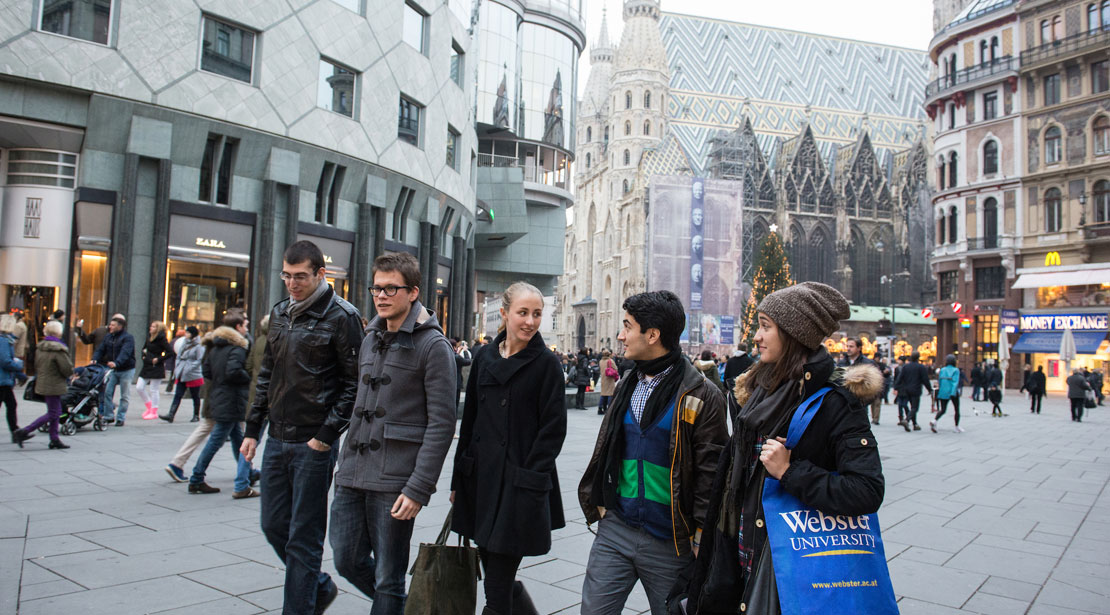 Student Spotlight
"If you have the chance, take it, STUDY ABROAD! It has made me appreciate so much about the world, but also things at home."
Ruchii Sheth
Studied Abroad at Webster Athens
Study Abroad Catalog
It's Your World. Explore!
Travel alongside Webster and WINS students as they share their exciting stories throughout this resource. Get an introduction to Webster Study Abroad all in one place.
Office of Study Abroad — Contact Us
Office Hours
Monday-Friday: 8:30 a.m.-4:30 p.m., Central Time
Mailing Address
Office of Study Abroad
470 East Lockwood Avenue
St. Louis, MO 63119
Make an Appointment
Study Abroad advising hours are by appointment, and advising sessions generally last 20-30 minutes. During the 2020-2021 year, study abroad advising appointments will be offered virtually through Zoom, as well as in-person for students who prefer to connect with an advisor on campus. Students should call or email the office to make an appointment.
After-Hours Emergencies
Please contact the Webster Office of Public Safety at 314-968-7430 or 314-968-6911.
Coronavirus (COVID-19)
Division of Global Education
Webster University continues to monitor the status of the Coronavirus (COVID-19) pandemic around the world and its impact on global programs. This is a constantly developing and changing situation. As a global institution, we have policies and protocols in place for monitoring developments, making decisions as needed, and communicating to impacted constituents and to our community. The health and safety of the Webster University community worldwide is of primary importance.
COVID-19 Updates
All information and communications related to our international programs and partnerships have been centralized in the Division of Global Education (DGE) in the Office of Academic Affairs. The DGE is doing the following:
Monitoring U.S. Department of State and U.S. Centers for Disease Control and Prevention, as well as other pertinent travel advisories.
Monitoring communication from national and international associations, as well as other universities and our WINS partners.
Communicating with our international campuses, collecting country-specific requirements and guidance, developing common and consistent message for students and others, and tracking those communications.
Communicating with our international partners, collecting their country-specific requirements and guidance, and ensuring we are aware of their messaging to visiting students and faculty.
Communicating with faculty who are scheduled to teach on faculty mobility or lead faculty-led study abroad programs.
Communicating with students who have applied to study abroad.
Communicating with our international insurance carriers.
The DGE will be in communication with specific people and groups as needed to provide guidance and information and to relay decisions as they are made. Hannah Verity, Director of Global Program Development, is serving as point-person for questions, and can be reached at hannahverity72@webster.edu or at +1-314-246-7627.
The Office of Study Abroad and WINS program are working in partnership with Webster's international campuses and partner programs to provide up-do-date information and communications to students on a regular basis. The Office of Study Abroad/WINS will provide ongoing updates to study abroad participants about the Coronavirus (COVID-19) and country/region-specific notices when needed.
Should you have questions, please call the Webster Office of Study Abroad at 314-968-7430. If you have an after-hours emergency, please contact Public Safety at 314-968-7430.
Here are the most recent decisions regarding study abroad programming:
Fall 2021 Programs
After a thorough review of the COVID-19 situation and its impact on Webster programs, the following programs were approved or canceled. All Fall 2021 study abroad participants have been notified.
| | |
| --- | --- |
| Approved Programs | Canceled Programs |
| Webster Athens (Greece) | Universidad de Cuyo (Argentina) |
| Webster Geneva (Switzerland) | Université de Bruxelles (Belgium) |
| Webster Ghana (Ghana) | Kansai University (Japan) |
| Webster St. Louis (USA) | Oberlin University (Japan) |
| Webster Vienna (Austria) | Game and App Design in Japan (Japan) |
| University of Roehampton (England) | Inequality and the Environment: Coffee (Costa Rica) |
| Kent State Florence (Italy) | Indigenous Rights and the Rights of Nature in Ecuador (Ecuador) |
Summer 2020/Summer 2021
All programming during these terms was canceled except for select students who were already in their host country/region.
As Webster starts to resume international mobility, it is important to do so in a responsible manner that keeps Webster students and faculty safe and healthy, and also considers the health and safety of on-ground partners and the local communities to which we are sending students and faculty. Therefore, the University is requiring study abroad and faculty mobility participants to be fully vaccinated prior to going abroad. This policy will go into effect starting with Fall 2021.
Vaccinated individuals are less likely to have severe cases of COVID-19 and are less likely to spread COVID-19. Thus, vaccinated travelers lessen the impact of their presence on local health systems and minimize spread. This is particularly important in locations where transmission remains high and/or vaccination rates remain low. In addition, the spread of new and concerning virus variants differs from country to country, and the CDC now recommends that individuals do not travel internationally until fully vaccinated.
While travel regulations and entry requirements around the world continue to evolve, it is clear that in many instances and at an increasing rate, travel restrictions are being eased for travelers who are fully vaccinated. This may mean entrance into a country, reduction or elimination of quarantine requirement, reduction or elimination of testing requirements, and freer movement/travel as some airlines, hotels and other venues may require proof of vaccination.
Given that Webster has students and faculty from campuses around the world, it is possible that some students and faculty scheduled for mobility may not have easy access to vaccines in their home campus country. In these instances, the Division of Global Education will work with the individuals and the host campuses to support vaccination in the host country. Individuals not fully vaccinated at the time of travel will be required to comply with the CDC guidance for non-vaccinated travelers to international locations.
For individuals with underlying medical conditions or religious exemptions that prevent them from being vaccinated, a release form will be provided, and these individuals will be required to comply with CDC guidance for non-vaccinated travelers to international locations.
Note: For the latest and most detailed information on global response and prevention, visit the CDC's COVID-19 page and its COVID-19 FAQ, and the WHO's coronavirus 2019 page which are updated frequently.
In the event of a program cancellation, Webster would come to this decision through doing a thorough country review and analysis using the following sources of information among others:
U.S. Department of State travel advisory and other reputable travel advisories.
National and international centers for disease control and prevention.
Communication from national and international associations as well as other universities.
Country-specific requirements and guidance from Webster's international campus staff.
Communications with international partners, including country-specific requirements and guidance.
Reports from our international insurance carrier.
Students would be notified as soon as a decision to suspend a program was made.
If a program is canceled prior to its start, students will be notified immediately and withdrawn from the program automatically. Students will not suffer any financial penalties due to the withdrawal. Alternative options for enrolling in classes at another study abroad program or Webster campus would be provided.
If your program is canceled prior to departure, you will not have to pay any program costs. The Office of Study Abroad will work with the Office of the Bursar to have the costs removed from your student account.
Regularly check webster.edu email.
Stay in close touch with your study abroad advisor.
Be aware of program decision dates.
Contact the Office of Study Abroad at any time with questions.
Your program may differ from the normal, pre-pandemic experience, in that there may be country or campus COVID-19 requirements that you will have to follow (e.g., masking, testing, maximum capacity at events, etc.), you may be part of a smaller group of study abroad students, and you may have different visa or entry requirements due to the pandemic. These are some of the main differences.
Webster is requiring the vaccine in order to keep our community of faculty, staff and students safe during international mobility, as well as to protect the local communities that they interact with. Having the vaccine can help ease travel and entry restrictions such as quarantines and testing. It can also make it easier for individuals to travel within their host country and neighboring countries.
Yes, you will need to provide a copy of your vaccination card (or country equivalent) prior to departure. If you are participating in an international mobility opportunity (faculty mobility or study abroad) the relevant support staff will follow up with you about how to submit your information. If you are unable to get vaccinated prior to departure, or have religious or medical reasons preventing you from receiving it, please contact
worldview@webster.edu
for next steps
At Webster, your education is flexible and portable.
Flexible
Five terms in an academic year make it easy to tailor your education to your life. Courses are offered in both semester and 8- or 9-week periods, and can consist of multiple modalities with our assortment of in person, hybrid, and online course options. Webster also offers a variety of degree, certificate, and non-degree programs.
Portable
For 40 years Webster has been building a network of campuses to serve local communities, now serving more than 10,000 students across 50+ U.S. sites, military locations, and international campuses. Our students can start their degree at one location and finish it at another, or seamlessly work on their degree while studying abroad.
News & Events
How Study Abroad Can Work For You