Social, Educational, Recreational
We welcome you to the University Center. Known as the "living room of the University," this is your place to meet with friends, eat, attend events, watch the Gorloks in action, study and hang out. The UC is home to many departments. Whatever your interests, you'll find resources and information to support your experience at Webster.
Hours of Operation
ID card point-of-entry swipe is required to access the University Center. Stop by Public Safety at 572 Garden Ave. if you encounter problems using your card.
Fall I, Aug. 20–Oct. 14, 2023
Upper Level
Monday–Thursday: 8 a.m.–10:30 p.m.
Friday: 8 a.m.–8 p.m.
Saturday–Sunday: CLOSED
Crossroads Dining
Monday–Thursday: 11 a.m.–5 p.m.
Friday: 11 a.m.–4 p.m.
Saturday–Sunday: CLOSED
Pool
Monday–Thursday: 6 a.m.–9 p.m.
Friday: 6 a.m.–8 p.m.
Saturday–Sunday: 9 a.m.–2 p.m.
Fitness Center and Grant Gymnasium
Monday–Thursday: 6 a.m.–10:30 p.m.
Friday: 6 a.m.–8 p.m.
Saturday–Sunday: 9 a.m.–2 p.m.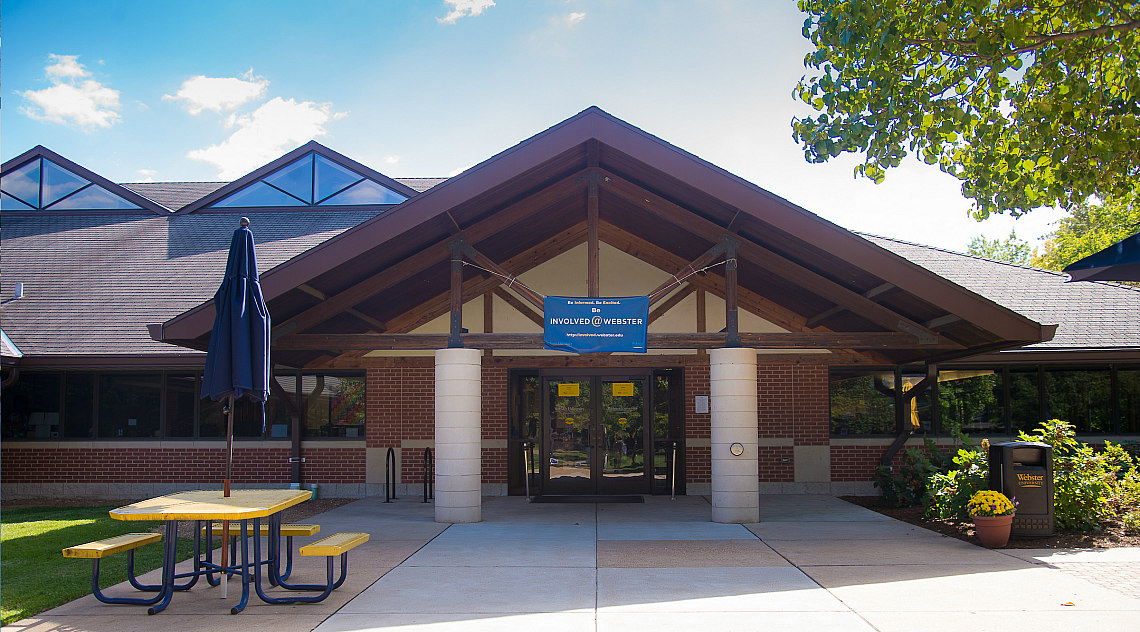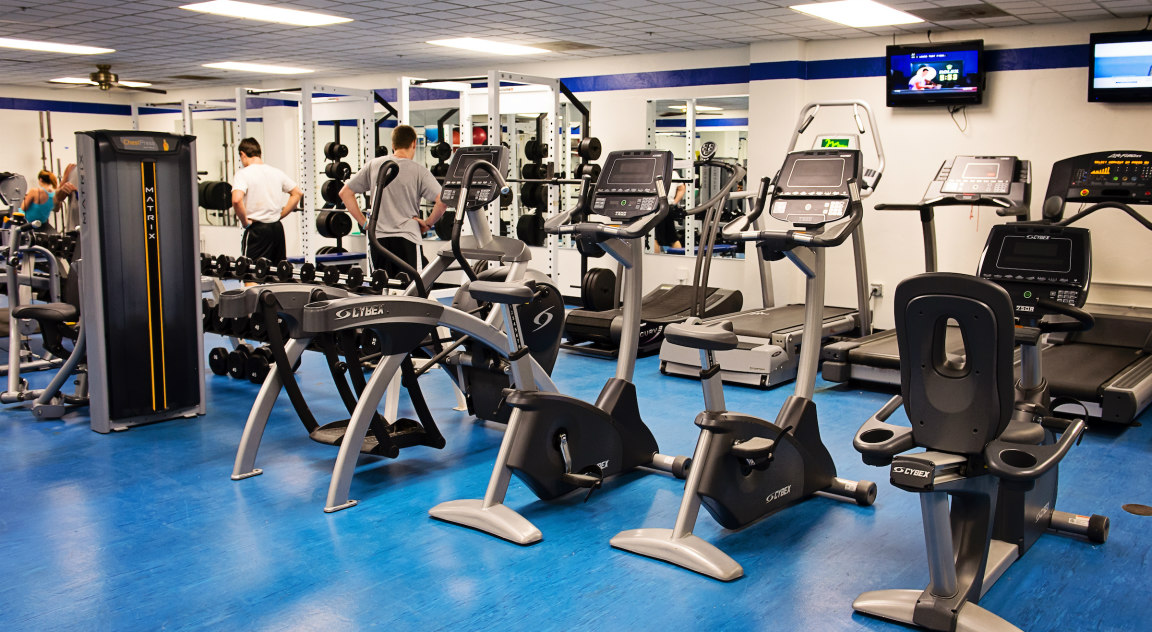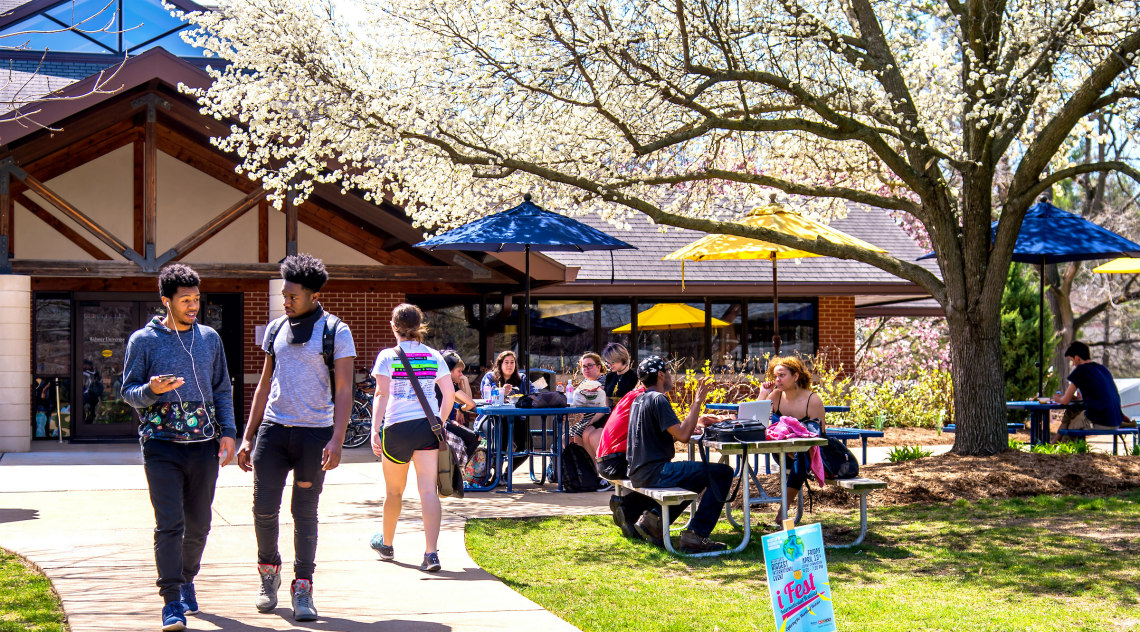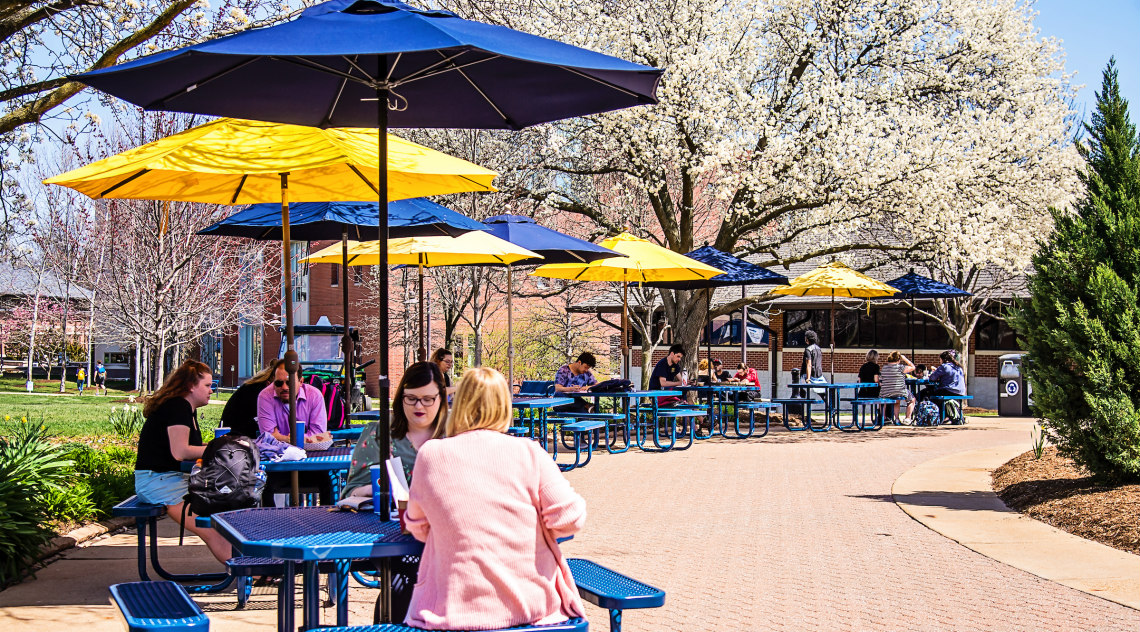 Fitness Center and Gymnasium
The Fitness Center is open to students, faculty, staff and affiliated members.
A Fitness Center Attendant is available during open hours to assist with check-in, equipment and other needs.
Fitness Center phone number: 314-246-7727
Fitness Center email: fitnesscenter@webster.edu
Pool Activities
The pool is open to current Webster University students, faculty, staff and members.
Lifeguard phone number: 314-246-7755
Webster University Swimming Pool Policies and Regulations (PDF)
The Swimming Pool is open to all Students, Faculty, Staff, Retiree and Eden Seminary Students at no charge. Memberships are available for purchase to alumni; special affiliates; family members of students, faculty, staff, alumni and retirees; and the community.
All patrons must present a valid Webster University ID to enter and use the facilities.
Patrons may bring one guest per visit. The guest fee is $5 per day. Patrons must be in the company of their guests at all times. The guest must sign the waiver to use the facilities.
Patrons are asked to observe the following policies which have been adopted to protect all users' right of access to the facility, to ensure health and safety of all guests and protect resources from damage.
It is strongly recommended that each participant have a medical examination and physician approval prior to engaging in any physical activity. Please notify the Swimming Pool Staff if special circumstances apply.
Access to the Swimming Pool is granted at the service desk by presenting a valid Webster University ID.

Swimming Pool Staff reserve the right to ask for additional identification at any time.
Any ID of a suspicious nature or not belonging to the bearer, will be confiscated.
Memberships are non-transferable and nonrefundable.
If the staff member is not present, please leave your ID at the desk.
No one under the age of 12 will be permitted entry without appropriate adult supervision.

Webster University is not responsible for lost or stolen items.

All personal belongings may be stored in a locker room locker or left on pool benching.
Please bring your own lock for security purposes.
Lockers are for day use only and locks will be removed if left overnight. Items in the locker will be placed in Lost and Found. Items left unclaimed for more than 30 days will be discarded or donated to charity.

Appropriate swimsuit attire is required for the safety of users. T-shirts and other cover clothing must be rinsed in the showers before entering the water. Swimmers wearing additional cover will not be allowed into the deeper end of the pool without special permission from the lifeguard.
All users are responsible for keeping the facility clean and safe.

Patrons are asked to shower before entering the pool and after using the sauna.
No open wounds, rashes or infectious/communicable diseases.
Please put equipment back into its appropriate storage space.
No running, diving or horseplay.
Spitting or defacing the facility will not be tolerated.
Swim diapers are required for all non-toilet trained patrons.
Incidents and injuries should be reported to the Swimming Pool Staff immediately.

No food or drink other than water in a closed-cap bottle, is allowed in the Swimming Pool area.
Please be aware of your behavior and respect other users and staff in the facility.

No profanity.
No excessive display of affection.
No cell phone use is allowed in the facility, including locker rooms.

Third-party swim instruction is NOT allowed in the Swimming Pool.
Music is available and can be played upon request if there are no objections by other users. The lifeguard will control the sound system and determine if music selection is appropriate.
Harassment of other Pool users, guests or staff, either verbally or physically will not be tolerated. This may include verbal abuse, use of profanity or other abusive language, intimidation, staring at or following another person within the facility.
Users who fail to respect other people and/or the equipment will be asked to leave the premises. Continued problems could result in permanent loss of facility use privileges.
The Swimming Pool reserves the right to reduce hours during breaks, final exams, between academic
semesters, and during the summer. The Swimming Pool may temporarily close for maintenance purposes. We reserve the right to close due to weather and on public and University holidays and will be held harmless should the facility be unavailable for use at these times or due to damage by fire, acts of God, catastrophe, accident, or other reasons beyond the control of Webster University.
Lifeguarding staff, pool management and Webster University staff have final authority on all activities in the Webster University Swimming Pool.
Pool Programs
Classes will be held 8-9 a.m., Monday through Thursday. If registration is low, classes will be offered 8-9 a.m. on Monday, Wednesday and Friday instead. Cost for each session is $90.
Spring Session Dates:
Sep. 4–Oct. 26 (8-week session)
Oct. 30–Dec. 21 (8-week session)
*Classes offerings during holiday closures will be altered in order to continue providing classes four times per week.
Group lessons are $75/session.
(University-affiliated discounts are $10/session. Please call the lifeguard at 314-246-7755 for the discount code.)
Swimmers must be at least 4 years old to participate in our group swim lesson program.
All registrations are accepted online with a credit card payment.
Registration for the second session opens at approximately 10 a.m. on TBD.
Fall 2023 Swim Lessons
Session I
Dates: CANCELLED
Please refer to our private swim lesson section if you are interested in receiving lessons during this period.
Session II
Dates: Oct. 30–Nov. 29
Starting at 5:30 p.m., Monday and Wednesday
Spring 2024 Swim Lessons
Session I
TBD
Starting at 5:30 p.m., Monday and Wednesday
Session II
Dates: TBD
Starting at 5:30 p.m., Monday and Wednesday
*Please note: Class days and times are subject to change.
Register for Swim Lessons
(Note: this link will not be active until registration opens)
We require a minimum number of participants for each class to run. Within a few weeks after registration is received, we will review enrollment numbers and confirm your child's time slot and level.
If your desired session is full, complete this form and ask to be added to the wait list.
For those interested in a one-on-one swim lesson format, we offer private swim lessons. Availability for private lessons is limited and is based on instructor schedules and availability. For more information and to request an instructor, please fill out the Private Swim Lesson Request Form. If the swim lesson coordinator has confirmed that you are matched with an instructor, then you will be given further instructions on how to purchase a lesson package. Private swim lessons can be purchased as one trial lesson, or as 5-lesson packs, or 10-lesson packs. Private lessons will be 30 minutes in duration.
Package Pricing
$40 — single session
$200 — five sessions
$400 — ten sessions
Swimmers must be at least 4 years old to participate in our swim lesson program, and must have a signed waiver on file.
Level 1
My child is nervous around water and does not feel comfortable going under water yet. My child is willing to learn and likes to have fun but feels that the water is intimidating. My child needs a flotation device in the water and is shorter than 3.5 feet tall (the depth of the pool in the shallow end). My child is not comfortable or cannot float on their back independently yet. Typically children who are ages 4 to 5 are in this level.
Level 2
My child is comfortable in the water and can put their faces in without fear. My child can swim independently in water with the depth of 3.5 feet. My child may know some form of front crawl or beginning freestyle but cannot breathe to the side yet. My child can float on their back independently or is comfortable to try. My child has a good idea of how to kick in the water with straight legs and pointed toes — no "bicycle kicks" or kicking with their knees. They utilize their thigh muscles to kick but it isn't perfected yet. My child is willing to try new things and is excited to learn about swimming. Typically 5 to 6, and 7-year-olds are in this class.
Level 3
My child can swim independently in water that is above their heads (5.5 feet exactly) without feeling panicked. My child can do freestyle but does not have their side breathing mastered yet. My child knows backstroke but needs some refinement stroke-wise. My child may or may not understand the mechanics of breaststroke kicks but is willing to learn it in this level. Typically 7 to 8-year-olds are in this class.
Level 4
My child knows how to swim freestyle with side breathing with solid technique. My child is able to swim the whole length of the pool (25 yards). My child knows how to do backstroke and is able to swim the whole length of the pool. My child knows how to do the breaststroke kick but may or may not know how to do the full stroke. My child is willing to learn how to do more difficult strokes and swim longer distances. My child does not know butterfly or knows it but cannot swim one length of the pool yet. Typically 7 to 9-year-olds are in this class.
Level 5
My child knows all four competitive swim strokes including freestyle, backstroke, breaststroke, and butterfly. Right now they can swim at least 25 yards, or one length of each stroke. Technique-wise they are very strong but need to work on endurance. They also need to work on racing starts and/or diving, as well as flip turns and two-hand touches. My child is willing to push themselves to learn new drills and build their endurance even if it is physically challenging. Typically 8 to 10-year-olds are in this class.
Meeting Spaces and Building Map
The University Center offers flexible and convenient spaces for various types of meetings and events. For room types, capacity and reservations, visit our reservation page.
Lower Level
Pool
Fitness Center and Gymnasium
Upper Level
Information Center
Dean of Student Affairs Office
Crossroads Dining
UC Commons (the space with the flags)
Meeting Rooms (including Sunnen Lounge, Presentation Room, and Conference Room)
Student Leadership Center (including Campus Activities and Student Government Association)
Information Center
Ask Us Anything! The Information Center is located on the upper level of the University Center. It is staffed by Student Building Managers who are trained to help University Center patrons with anything and everything.
Phone: 314-246-7105
Email: websteruc@webster.edu
The Student Building Managers maintain the meeting rooms of the University Center and can assist with room setups and AV needs for scheduled events.
The Information Desk can verify your status as a current student, faculty or staff member at Webster University and issue a current semester sticker. This sticker provides access to the Fitness Center, Pool, Gym, and Library on campus. Students may show a current semester sticker to receive a student discount at participating venues such as movie theatres.
The University Center offers memberships for the use of the Swimming Pool and Fitness Center. If you would like assistance completing the online form for memberships, please see the staff at the Information Center. Find more
information about memberships.
The bike share program allows current students, faculty and staff to access bicycles for one-day use, on days when the University Center Information Center is open. Bikes must be returned the same day they are checked out, before the Information Center closes (see hours of operation below). If a bike is not returned the same day, user will be charged $25 per day that the bike is not returned. All participants must have a completed
waiver
to rent a bicycle. Helmets are available to rent for free. Locks, helmets, and keys should stay with bicycles at ALL times. Bicycles should be ridden on city streets, trails, or sidewalks. Bicycles should only be parked at designated bicycle racks. Parking anywhere else will result in removal of the bicycle by Public Safety and penalty for the user. The renter is responsible for all items while they are in the renter's possession. Any damages accrued will have penalties.
Take a Virtual Tour
More Information
Katie Knetzer
Director of the University Center
314-246-6978
mccombka@webster.edu
Katie Knetzer supervises all units within the University Center. These responsibilities include the information desk, the fitness center, the pool and meeting room reservations. She also co-advises the Dining Advisory Board and acts as liaison for all the departments that use and interact with the University Center.
Josh Perreault
Coordinator of Aquatics and Fitness
314-246-7732
joshuaperreault@webster.edu
Josh Perreault oversees the fitness and aquatic center for the University Center. He also manages the swim lesson program and all other aquatic programs.
The University Center Board (UCB) assists the University Center staff in providing for the services, conveniences and amenities the members of the University family needs on the campus, and in promoting community through informal association outside the classroom. In all its processes, the UCB encourages self-directed activity, giving maximum opportunity for self realization and for growth in individual social competency and group effectiveness. Its goal is the development of persons as well as intellects.
President: TBA
Advisor: Director of University Center: Katie Knetzer (mccombka@webster.edu)
Functions
Serve the University Center and the University community through the enactment of UCB policies consistent with the mission of Webster University, the University Center, and the philosophy and purpose expressed in the "Role of the College Union," the official statement of purpose of the Association of College Unions--International, adopted at the general conference of the Association in April, 1956, reaffirmed in 1964, 1986.
Offer guidance in the organization and administration of facility policies and services in the University Center for the students, faculty, staff, and alumni of the University.
Serve in an advisory capacity to the Director of the University Center with respect to general University Center services and policies. Decisions of the UCB are subject to the authority of the Dean of Student Affairs and the University Administration.
Perform special projects and research functions.
Membership
The UCB shall consist of a student President in addition to the following members, who will serve as advocates for their respective constituencies:
Student Members
Student Government Association
Residential Housing Association
Student Building Manager staff
Fitness Center Attendant
Pool Staff
Campus Activities Staff
Student Athlete Advisory Committee
Graduate Student
Commuter Student
International Student
Faculty and Staff Members
Director of the University Center and Student Activities
Director of Athletics
Coordinator of Athletics
Webster Staff Alliance Representative
Student Organization Advisor Faculty
At-large Faculty Representative
Alumni/Development Representative
Dining Services Staff
Voting members shall include the entire UCB membership, excluding the Director of the University Center. The student President will vote only in case of a tied vote. Voting members could relinquish their voting privileges after two unexcused absences per semester.
Officers and Elections
The UCB shall be governed by a student President, elected by the UCB each spring. The President shall conduct all UCB and Executive Committee meetings. The University Center office shall be responsible for maintaining the records of the Board. The nomination and election of the student President shall take place at the beginning of the second to last UCB meeting of the spring semester. The term of office shall be for one calendar year and shall begin on the first day of the summer term. The President shall be a student elected by a majority of votes from the entire membership.
Quorum
Quorum shall consist of nine voting members, five of whom are students.
Internal Committees
The Executive Committee shall consist of the student President, the Director of the University Center, and two at-large members (one student, one faculty/staff) elected by the Board. This committee's function shall be to convene and act on behalf of the UCB in an emergency situation. Ad hoc committees shall be appointed by the student President in the case of special projects or issues needing focused attention.
Amendments
This document may be amended by a 2/3 vote of voting members present at a regularly scheduled meeting.
Amended Fall 2000
Amended Spring 2002
Amended Spring 2005
Amended Spring 2008
News and Events
Highlights from the University Center