Individualized Learning When and Where You Want It
Meeting the needs of students — locally and globally — has remained a top priority for Webster University for more than 100 years. Webster University Online programs offer the same high-quality instruction as our traditional on-ground classes, and our online students are an active, diverse and vibrant part of our community.

CHECK OUT THE RANGE OF ONLINE CERTIFICATES WE OFFER, TOO
Earn the same prestigious degree, diploma and educational foundation you're seeking — no matter where you are in the world.
We offer either asynchronous or synchronous online programs, giving you the opportunity to choose a program that fits your lifestyle and the way you prefer to learn.
Learn more about our Live Virtual (synchronous) course delivery, as well as our 100% online (asynchronous) offering, so you can select the right program that will help lead you to a fulfilling and successful career. Learn More About Our Course Delivery
Asynchronous online courses allow you to work from any location, at times that are convenient to you. All course content is accessed through WorldClassRoom. Courses replicate the Webster classroom experience in a fully online format, providing interaction between faculty and students without requiring a specific class meeting time.
Webster's Live Virtual programs provide students with the best of the online and classroom experience. In Live Virtual classes, a portion of your work will be completed online, and each week you will have a class meeting with your professor and classmates via teleconferencing software. Live Virtual is ideal for students who appreciate the self-management aspects of traditional online classes, but also want opportunities for real-time interaction and discussion with their professor.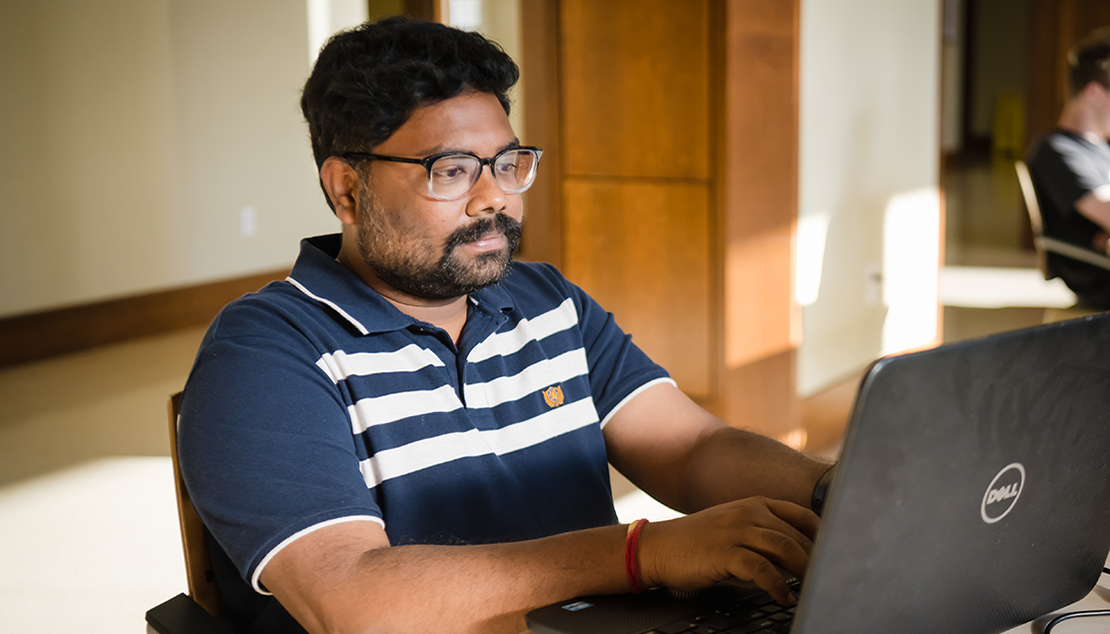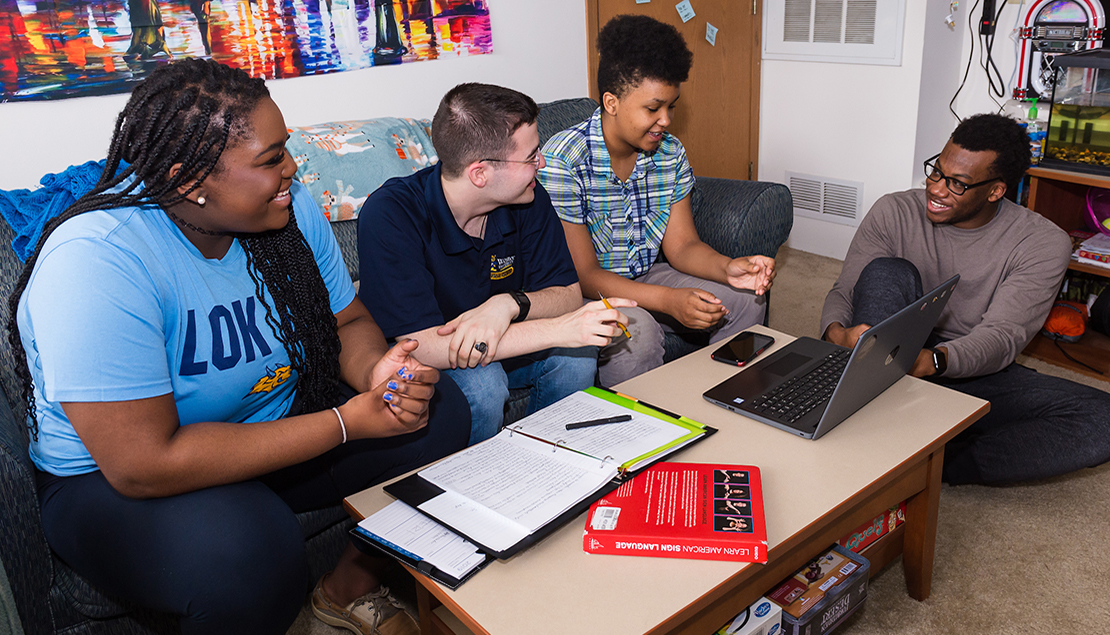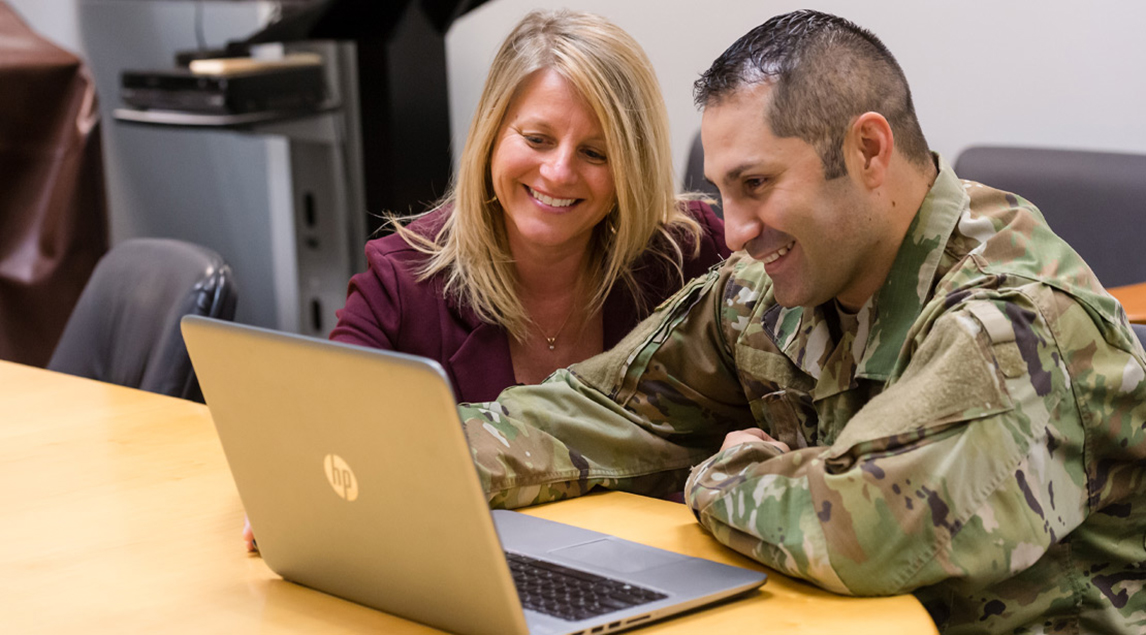 Webster University Online Provides Convenient Learning to Fit Your Individual Needs
For more than 100 years, Webster has provided our students with the tools, resources and skills necessary to become experts in their chosen career fields. In 1999, we launched our first online program, in direct response to student needs. As lives became busier and schedules less predictable, many of our students were seeking the flexibility of online learning … and we were prepared to provide it.
60+
Online undergraduate, graduate and certificate programs
Choose Your Online Program
22nd in the Midwest
Webster University continues to be highly ranked on the U.S. News & World Report's Best Colleges report, now listed as 22nd in Midwest Regional Universities. Webster was also recognized as a "Best Value" school and "Top Performer" for social mobility.
Live Virtual MHA
One of our newest Live Virtual programs is the Masters in Health Administration (MHA) designed by Assistant Professor Doug Whitman, who has worked on its development with health administration professionals from around the country. The program can be completed in as little as 16 months for a full-time student, with course content that can be immediately applied in your professional setting.
What to Expect
In the Live Virtual MHA, you will meet each week for a two-hour Zoom session with your professors and fellow students. Remaining course content will be delivered via WorldClassRoom. The Live Virtual format provides a mix of independent work and synchronous, engaged learning to maximize applied learning, and faculty-student and student-student connections through active and dynamic class exercises.
At Webster, your education is flexible and portable.
You can incorporate synchronous, asynchronous and face-to-face classes into your degree with no limits, and tuition is the same — no matter what!
Flexible
Five terms in an academic year make it easy to tailor your education to your life. Courses are offered in both semester and eight- or nine-week periods, and can be asynchronous or synchronous with our assortment of in-person, Live Virtual, and 100% online course options. Webster also offers a variety of degree, certificate and non-degree programs.
Portable
For 40 years Webster has been building a network of campuses to serve local communities, now serving more than 10,000 students across about 40 U.S. metro sites and military bases, along with several international campuses. Our students can start their degree at one location and finish it at another, or seamlessly work on their degree while studying abroad.
200,000+
Alumni from our Global Campuses
Support for Online Learners
Webster University Online Student Services
Online learners need quality student support services, too! From student success coaches, to tutoring, academic advisors, online writing coaches, accessibility services and many more, we've got you covered.
Other services include:
Mental health counseling
Life development services
24/7 library chat
Career development
#8 Best for Veterans
Webster University is a top-tier regional institution, ranked as #8th "Best for Veterans" for 2022 among Midwestern Regional Institutions by U.S. News & World Report, and #22nd in the Regional Universities Midwest category in 2023.
Webster University Online Supports Military Students
Webster University Online has long provided support to military personnel wishing to pursue their education. For students who may worry about deployment or location change, online learning allows you to seamlessly continue your degree, no matter where in the world you are.
Check out our Military Resources page to see if your military training can be applied as transfer credit to your Webster degree.
Global Hybrid Courses Offer Study Abroad Opportunities to Webster University Online Students
The Walker Global Hybrid Courses are 1- or 3-credit hour courses consisting of a blend of online and immersive travel learning offered by the Walker School of Business & Technology. The one-week travel component offers students the opportunity to explore a global business, technology or management issue in locations around the world.
Contact Kelly Heath at 314-246-7881 or kellyheath89@webster.edu for more information and how to apply.
News and Events
Connect with Us