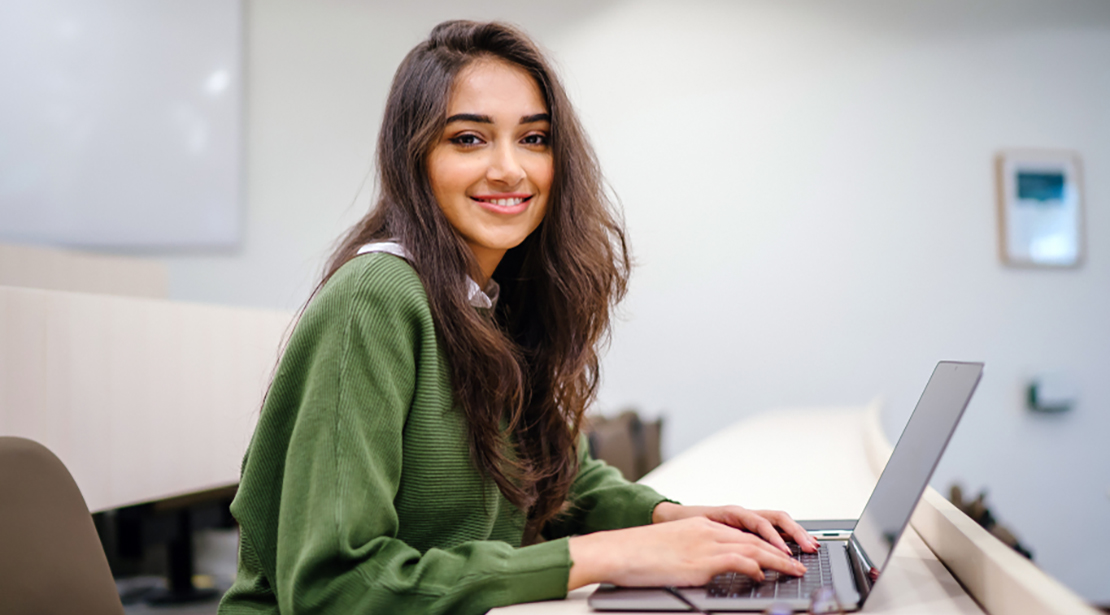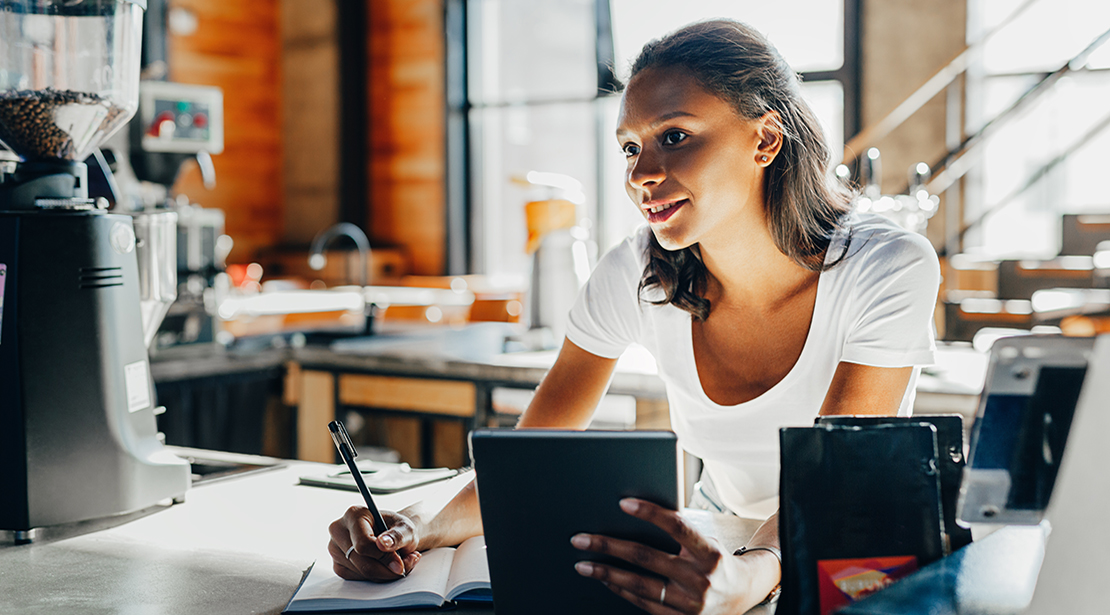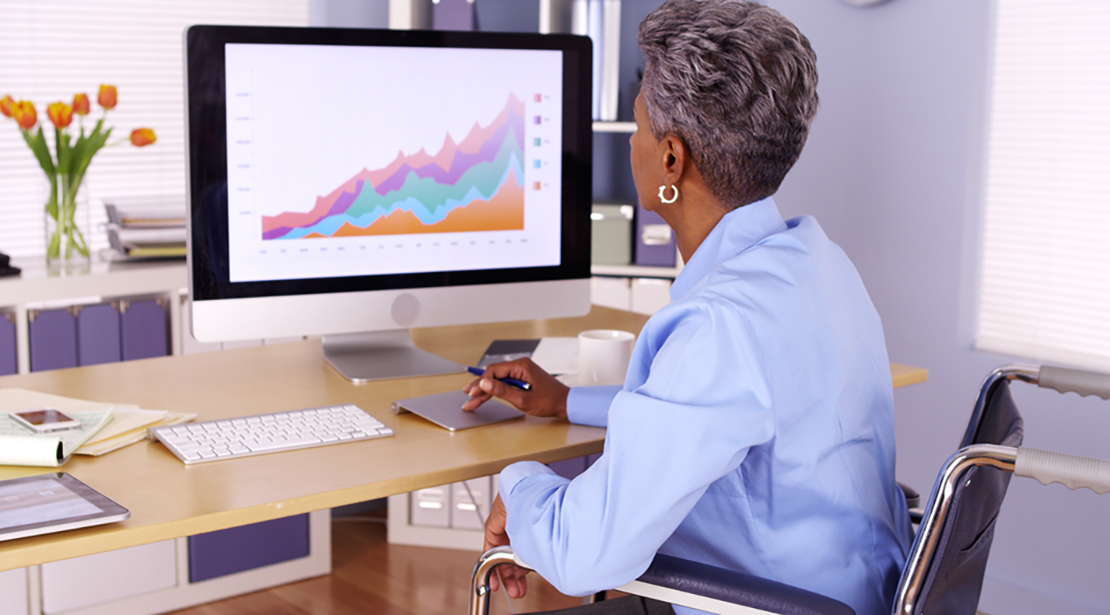 Earn the same degree regardless of the way you attend class. At Webster University, your program is the same whether you take it 100% online, as Live Virtual, or in the classroom. You can make the decision about how you want to learn, and how your education fits into the rest of your life.
Because the degree is the same, regardless of how you take the classes, you have the flexibility to blend course modalities in your degree. Busy time coming up at work? Utilize our 100% online (asynchronous) delivery so you can be in control of your schedule. Worried about an intense class? Switch to Live Virtual (synchronous) online and have weekly interaction with the professor and your classmates to cover difficult concepts.
We keep our classes smaller to facilitate faculty interaction, engagement, and mentorship. Our class sizes are managed to encourage interaction between students, and support them in building a learning community, even in the virtual space.
As an online student, you will have access to a Webster University Online Student Success Coach, who can help guide you in achieving academic success. The success coach will support students at any time within their online program by assisting them in making the best use of available university resources, encouraging self-motivation and management, and helping them to meet their educational goals.
The Online Writing Center (OWC) is devoted to helping students become better, more confident writers. Webster's OWC coaches will review assignments and provide feedback and advice on global issues, such as focus, development and organization. The OWC also provides support and resources to help students navigate citation and attribution.
Online tutoring services can be found embedded directly in your online class. NetTutor provides students with tutoring in a wide array of subjects, and the link is in the navigation bar of every online course.
The Counseling and Life Development Staff are available to assist all current Webster University students. If students have any personal issues interfering with their success at Webster University or beyond, they are here to help.
Student Life
Opportunities to Connect
In 2020, Webster launched the speaker series, "Webster Speaks: Dialogues on RACE, EQUITY, and INCLUSION." Since then, it has built an international audience for its frank conversations with local and national leaders advancing these issues, and sessions are always hosted virtually. Join upcoming sessions or listen to recorded sessions at
Webster Speaks
.
Schools and departments host a number of events during the year that are tailored for their students. You may receive communication from your professors, departments, or your Dean inviting you to events, such as the Women in Business conference hosted by the Walker School of Business.
Think of Gorlok Groves as your virtual Student Center. The Gorlok Groves is located within WorldClassRoom as a one-stop social, success coach and "get things done" spot. Students taking online courses can find the resources and tools you need to be successful in pursuit of your degree. Students can also connect with one another through discussion boards, whether it's to ask about a class, talk about textbooks, or cheer one another on during educational pursuits.
More Virtual Opportunities
Webster Online graduates can join our main graduation ceremony in St. Louis, or can attend ceremonies hosted by any of our other metro, military or international campuses if they prefer that location. The Online Learning Center also hosts a reception prior to graduation for our online students to celebrate your success and give you an opportunity to meet face-to-face many of your faculty and support staff that you may have only "known" in the virtual world.
Prepare for Your New Career!
Career Planning and Development Center
The Career Planning and Development Center (CPDC) assist individuals with exploring and defining their personal career goals while developing the skills and confidence necessary to succeed. They are committed to providing high-quality learning experiences for all our students, including online students. CPDC can assist you through individual career advising appointments, virtual events, and connect you to employers and a variety of resources through Handshake, Webster's career management and job posting platform.
Faculty
Faculty members are recognized experts in their field, with multiple years of experience in their subject area. Webster faculty play a vital role in delivering a world-class academic experience for our students, and are key in our students' professional development. Pursuing your degree to advance or change your career? Your online professor may be the first member of your brand new professional network.
Alumni Success
Our students' connection with Webster doesn't end at graduation. Upon completion of your degree, you will join the over 200,000 Webster alumni doing amazing things in the world. Our Career Planning and Development center also provides services for alumni, and can connect alumni and current students.
Alumni Mentorship
Webster Alumni are encouraged to stay engaged through our mentorship program that gives alums an opportunity to share their knowledge with future leaders. The Center for Career Planning and Development can link you with an alum who has volunteered to serve as a mentor.
Technology
Webster University Online offers courses designed in a partnership between faculty and a staff of instructional designers and course developers to take advantage of available technology to enhance online learning. Courses are also designed and formatted for easy access from your computer, tablet or phone.
Webster University uses the Canvas Learning Management system, one of the leading systems for online course delivery. Through Canvas, we are able to embed multiple other services, including Zoom, Starfish, NetTutor and tools chosen by your faculty member to enhance your course.
All Webster University students receive access to MicrosoftOffice365. The subscription gives students online access to the Microsoft Office applications from nearly any device, and provides many productivity and collaboration services to the Webster Online community, like online hosted email, shared calendaring, additional online storage with OneDrive, Office in the cloud, and more. You can download and install the full MS Office suite for free on multiple personal devices and will receive 1TB of online file storage space in OneDrive.
Ally is a set of tools to make course content in WorldClassRoom (Canvas) easier to access and use. It benefits students with accessibility needs; students seeking easier access to course materials through mobile phones, tablets, and electronic readers; students who need file types different than the format uploaded by the instructor; and instructors looking to improve their course content for greater accessibility.
The Information Technology Support Center provides students with a single point of contact for all technology issues, including those related to online courses. If you are having any trouble with any Webster University-supported technology, reach out via phone, email, or through an online request to ITSD.
Choose How You Earn Your Degree
Accelerated Pathway to a Degree
Five terms in a year, with courses offered in eight- to nine-week terms allow Online students to take the fastest track to their degree.
And you pick how you want to take your courses, 100% Online (asynchronously) or Live Virtual (synchronously).
Frequently Asked Questions: Programs
ABSOLUTELY! If you are a graduate student, we currently offer full degrees and certificates fully online. For undergraduates, we offer either full programs or degree completion programs for students with a completed associate's degree or a number of transfer credits.
Since our online programs are identical to our programs in the classroom, you can take a face-to-face class any time you like if you live near one of our
campuses
.
For Graduate students, the maximum load is 6 credit hours per 8- or 9-week term, which equates to two courses per term. For undergraduate students, the maximum load is 18 credit hours per 16-week semester or 9 hours per 8-week term. We offer 5 accelerated terms per year. When you meet with your advisor, be sure to discuss your degree completion target, and what amount of time you have to contribute to your classes each week. Together you will decide what class load is best for you, your life and your goals.
When you are admitted, Academic Advising will reach out to you to set up an appointment with your advisor. Keep an eye on the email account you used for your application. If you have other questions, contact
Academic Advising
.
There is no on-campus residency requirement for taking online classes at Webster University, though you are welcome to visit any of our worldwide campuses at any time.
This depends on many factors, including the number of credit hours in your program, whether you will be bringing in transfer credit, and how many credit hours you can enroll in each term. When you meet with your advisor, you will set up a program plan together that will give you your completion date.
Our online courses are taught by the same distinguished faculty who teach our face-to-face classes. They bring extensive real-world experience and practical knowledge to the classroom.
No. Your diploma will be identical to those received by students in on-site programs.
Frequently Asked Questions: Online Learning
If you can use an internet browser, you can take an online course. All our courses are delivered through our Learning Management System (LMS) that works just like a website. If you are in a Live Virtual program, you will also use videoconferencing software, such as Zoom.
You will need a computer with internet access for all online courses. Our courses are also accessible through tablets and smartphones, but typing a research paper on your phone could be slow, so you will also want a laptop or desktop for big assignments. If you are in a Live Virtual program, you will also need a webcam, speakers, and microphone, whether built-in to your computer or added externally.
Frequently Asked Questions: Online Courses
We use our Learning Management System (LMS) to deliver course content and assignments. Depending on whether your program is asynchronous or synchronous, you may also participate in planned class meetings via video conferencing. Read more about the different
types of online delivery.
All exams and tests are taken inside the Learning Management System (LMS). Assignments will be submitted there, too. This provides a central place for all class activities and feedback to occur.
The length of courses varies by program. Courses are offered in 8-, 9- and 16-week formats.
This will depend on a number of factors … from the level of the course, to your familiarity with the subject matter, and your learning style. This makes it hard to give an estimate of hours. If you are in an accelerated term (8-9 weeks), consider setting aside around 15 hours a week when you take your first class. This will be divided across activities in the LMS, readings, research, working on assignments and participating in teleconference class meetings (if in a Live Virtual program). You can then use your experience in your first class to determine what kind of course load you can manage.
Webster's online courses are not self-paced or designed to be taken as independent study. Assignments, readings and online discussions have weekly deadlines that must be met. If you are in a Live Virtual program, you will also have weekly teleconferenced course sessions to attend.
Most online courses require at least one textbook. To see and purchase what textbooks are needed for online courses, visit Webster's Follett Bookstore in person or
online
.
Frequently Asked Questions: Getting Help
The Reeg Academic Resource Center
provides academic resources, support, advocacy and access through relationships that empower students across the worldwide Webster University community. Services include academic counseling, assistive technology, disability accommodations, a testing center, a tutoring program and writing services.
Contact the Admissions department at
314-246-7800
or
800-753-6765
, or via email at
admit@webster.edu
. Once you are enrolled, your Online Success Coach or Academic Advisor can direct you to any resource you may need.
News and Events
Connect with Us