200,000+
Alumni from our Global Campuses
Hands-on Education and Experience
Webster University is a pioneer in audio education. Students learn about audio as it relates to all media through a hands-on approach, using professional-grade equipment. The faculty are professionals working in their field as well as educators. After graduation, students will have the skills to work in a variety of fields in the audio industry.
Sound recording and engineering majors and minors produce music recordings, radio spots, run live sound for concerts, learn sound design, and mix audio for video and film throughout their time at Webster. Of equal importance, they learn audio history and theory. Webster students have various internship opportunities, which include stints at major recording studios, sound reinforcement companies and radio stations across the country. International opportunities also are available.
Explore Our State-of-the-Art Facilities and Equipment
The School of Communications complex houses a state-of-the-art media production and education facility, meeting industry standards, and including unique, first-in-the-region technologies and capabilities. Studio facilities include an audio and video production/recording suite, sound stage, workshop space, photography studio, gallery, animation, game design, and video post-production labs as well as flexible teaching spaces.
Choosing Webster
"Having both a top program for my major and a program like WebsterLEADS made my choice to transfer to Webster a no-brainer."
A Practical Approach
Webster's Bachelor of Science in Sound Recording and Engineering is designed for students who are interested in the fields of music recording, live sound engineering, sound system engineering and/or audio technology.
This course of study includes specialized classes on two-channel recording, technical ear training, music recording, live audio production, studio engineering and acoustics. Graduates will have completed an internship and capstone class.
Webster University is an educational member of the Audio Engineering Society.
Webster's student section of the Audio Engineering Society is one of the most active and successful chapters worldwide.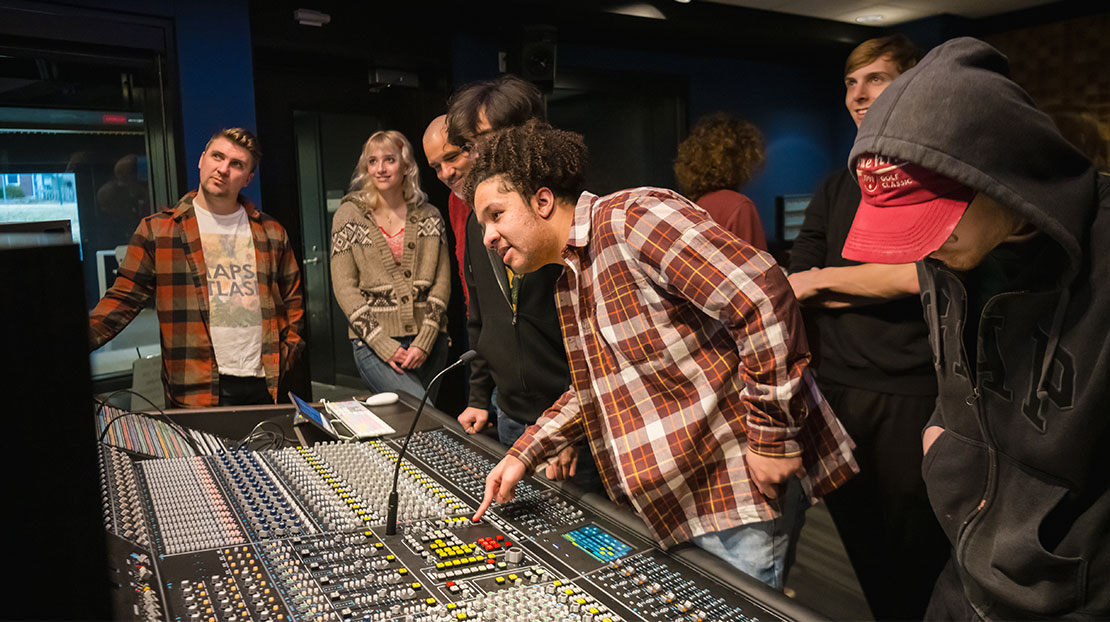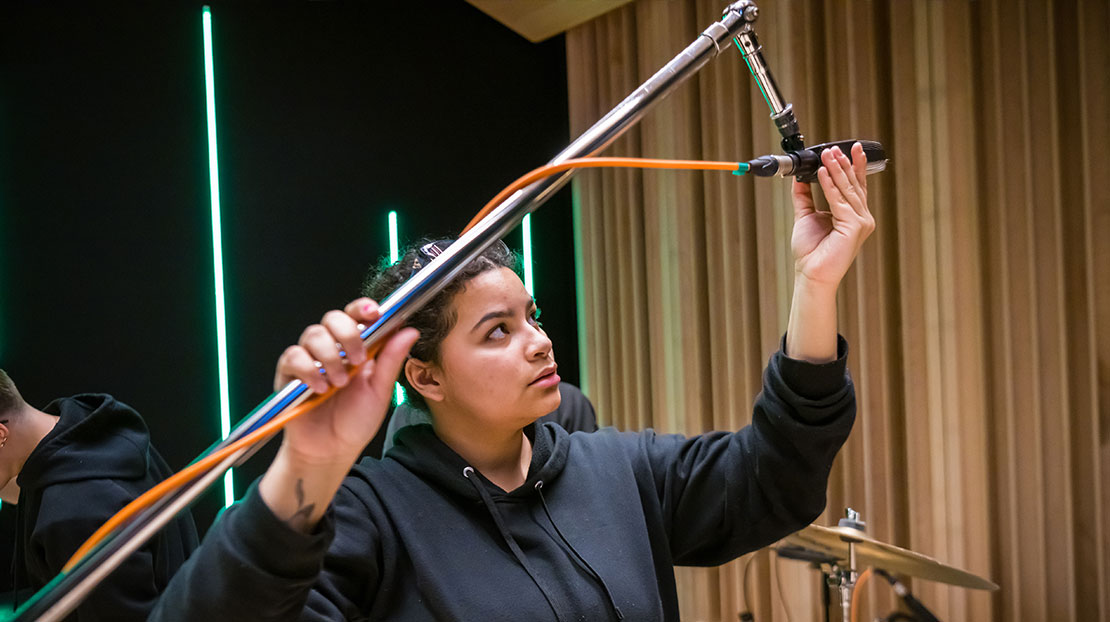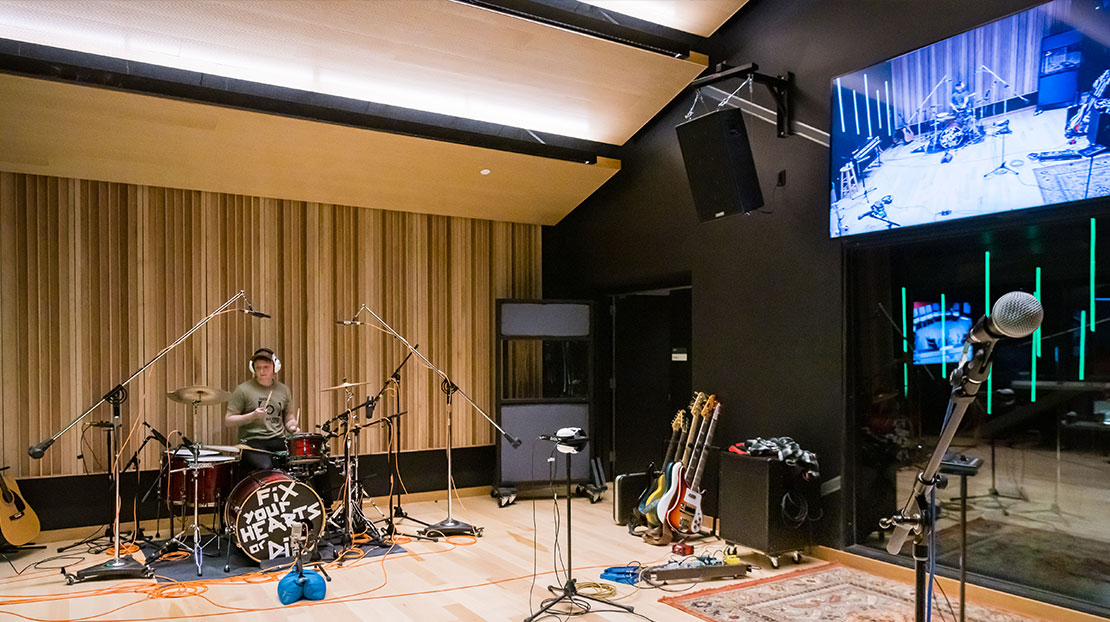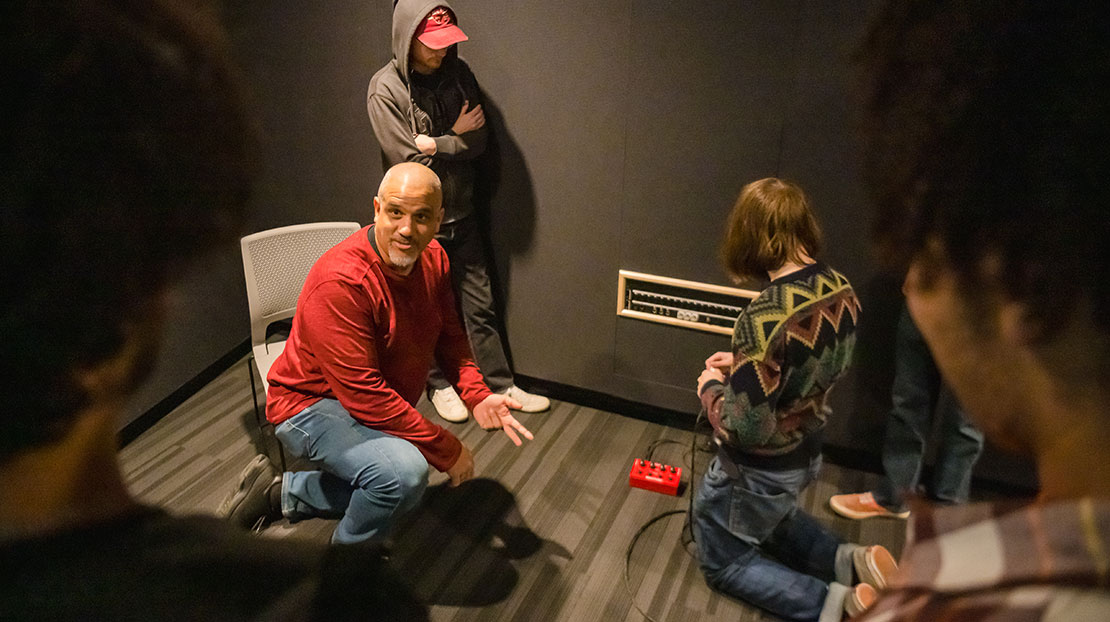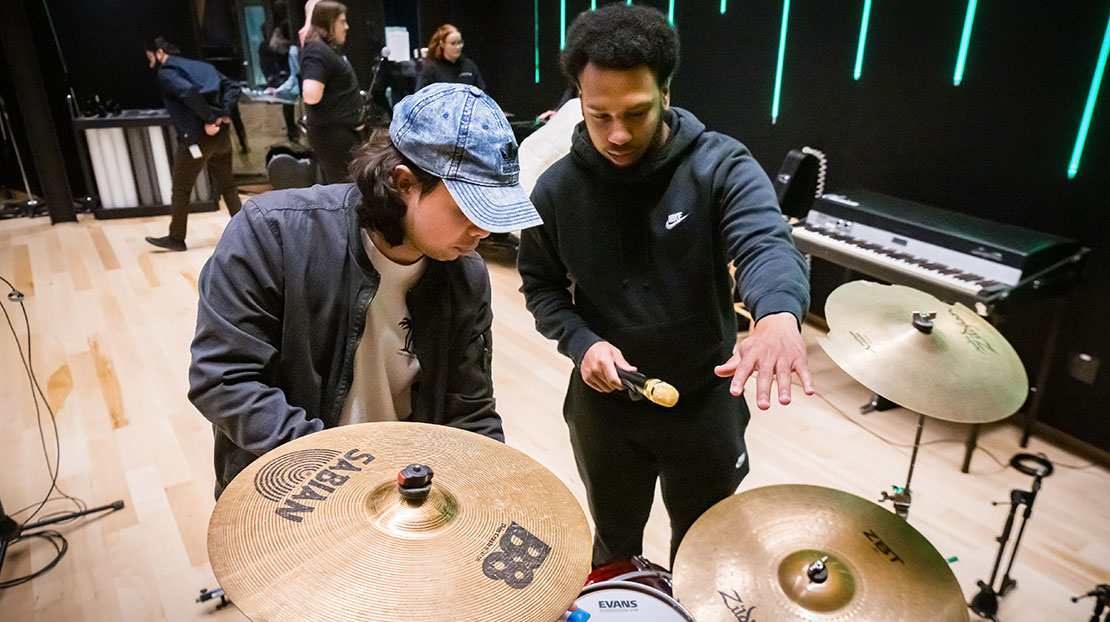 Alumni with a Degree in Audio Production Include:
Bruce Buechner, audio engineer for Snoop Dogg, Ruben Studdard, Christina Milian, Lil Jon, Jamie Foxx and Mary J. Blige.
Matt "Buster" Allen, audio engineer for Garth Brooks.
Brian Barrale, Los Angeles-based composer and arranger for "Aliens of the Deep," "Heart of the Beholder," and "Nancy Drew: The Secret of Shadow Ranch."
Chelsea (VandeDrink) Crutcher, recording engineer for the Cincinnati Symphony Orchestra.
Explore the Program
BS in Sound Recording and Engineering
Find out more about the overall curriculum, electives, learning outcomes and more.
Add the Sound Recording and Engineering Minor to Your Degree
Designed for students outside the department who wish to study audio with an emphasis on music recording and production, students will learn to:
Set up and operate mixing consoles of varying size and format, employing appropriate gain structure.
Operate proficiently within a DAW environment, including effective session design and expedited software navigation.
Apply literacy of audio aesthetics to multitrack mixes.
Capture a multitrack recording in a studio setting at an introductory level.
Compare and discuss various microphone techniques for different instruments.
Get Started on Your Program
Take the next step toward earning your degree. We are here to help.