Help Us Create a Better World
Webster University's Institute for Human Rights and Humanitarian Studies combines support for teaching, research, and service to promote global citizenship among its students, staff, and alumni. With the University's international footprint, we're advancing the study of human rights issues, as well as advocacy for the protection and promotion of fundamental rights.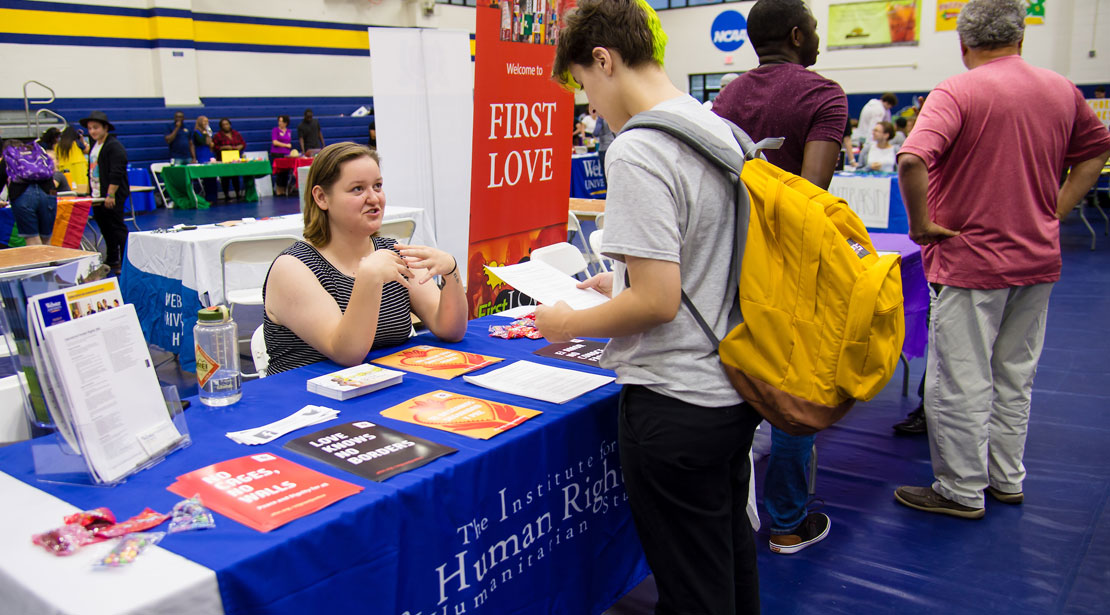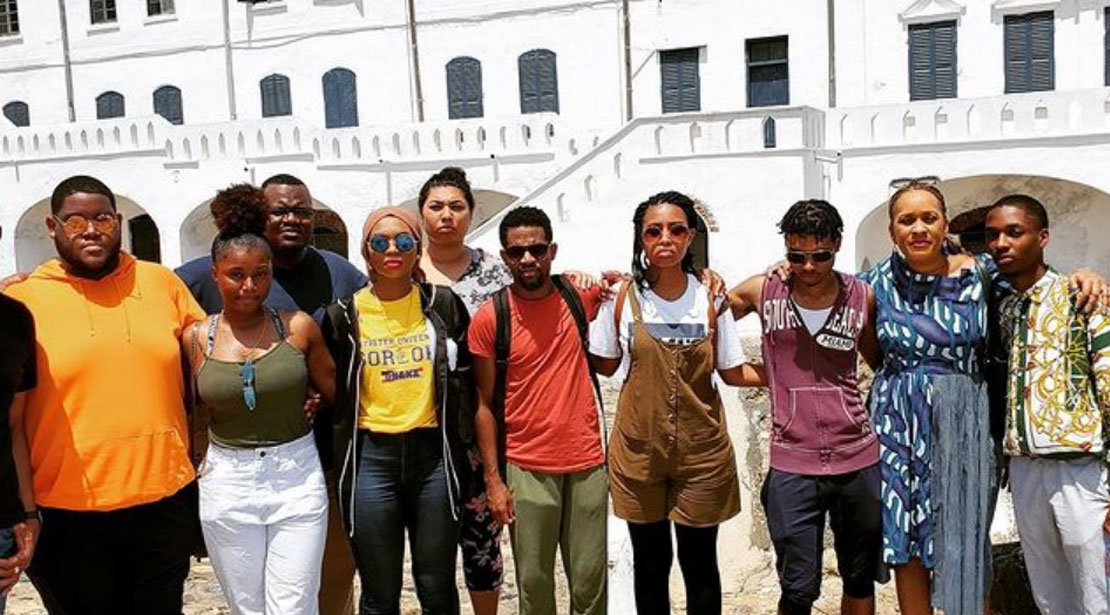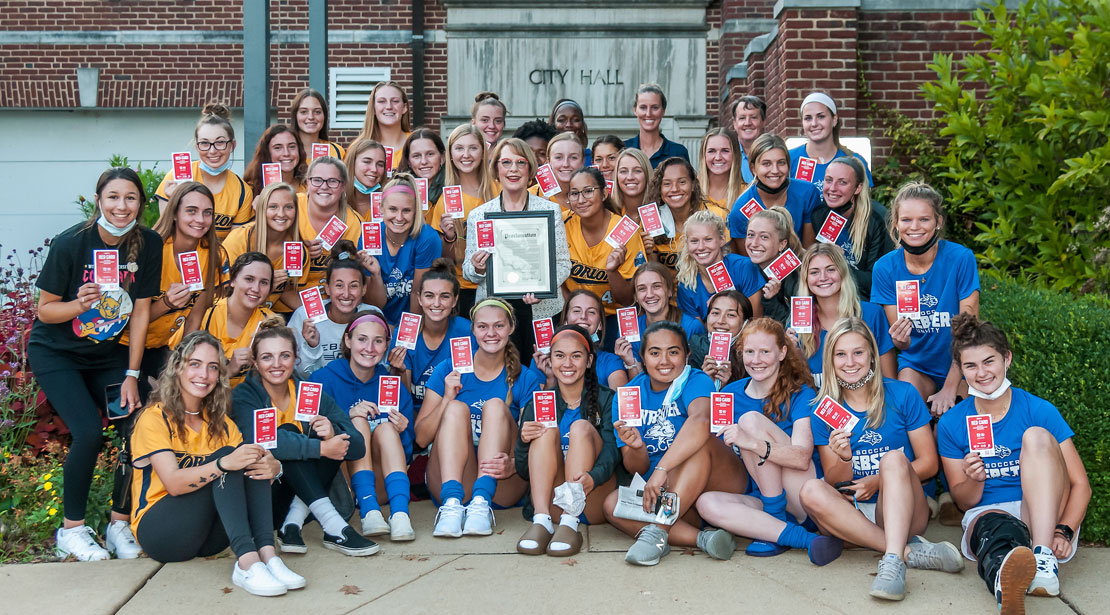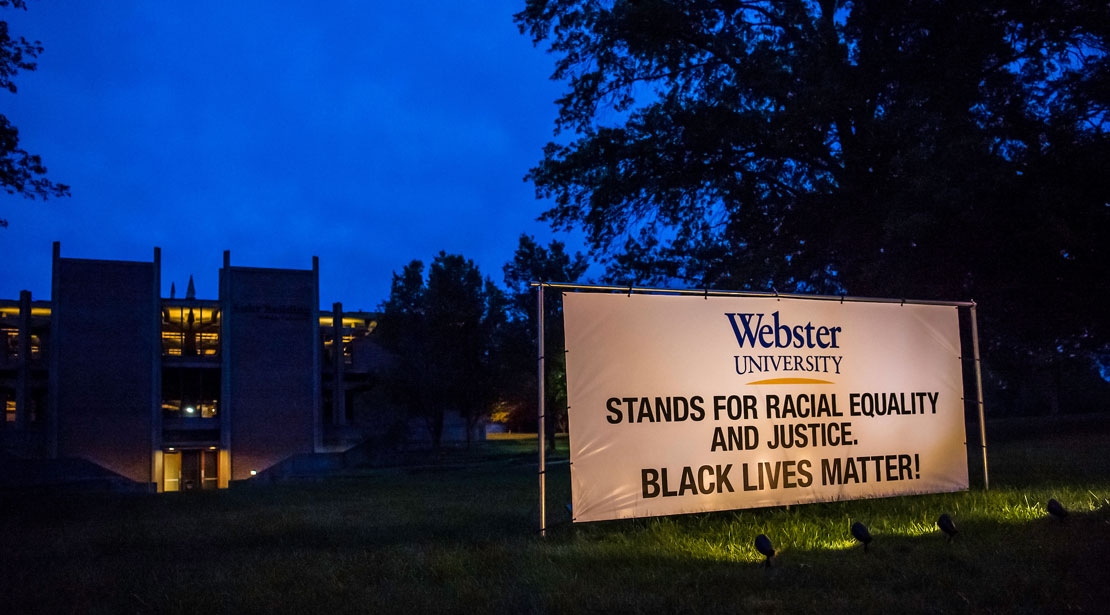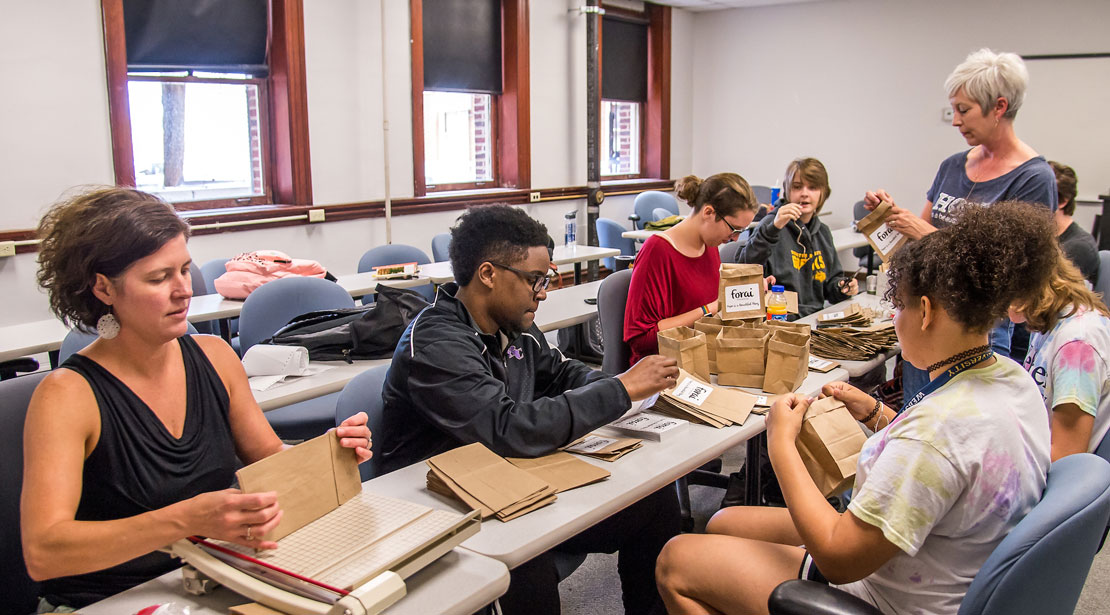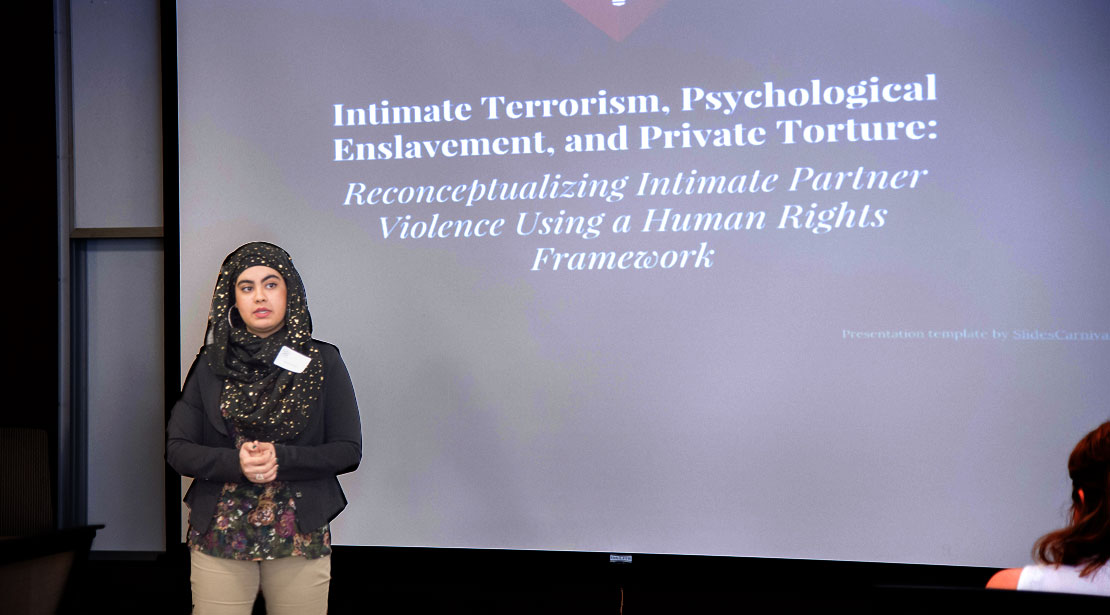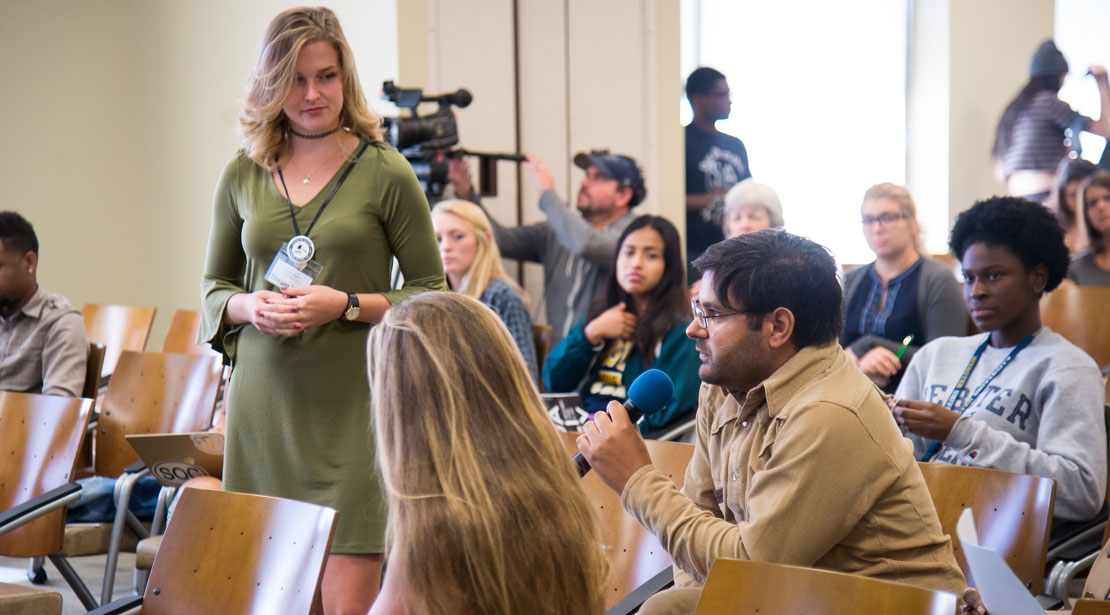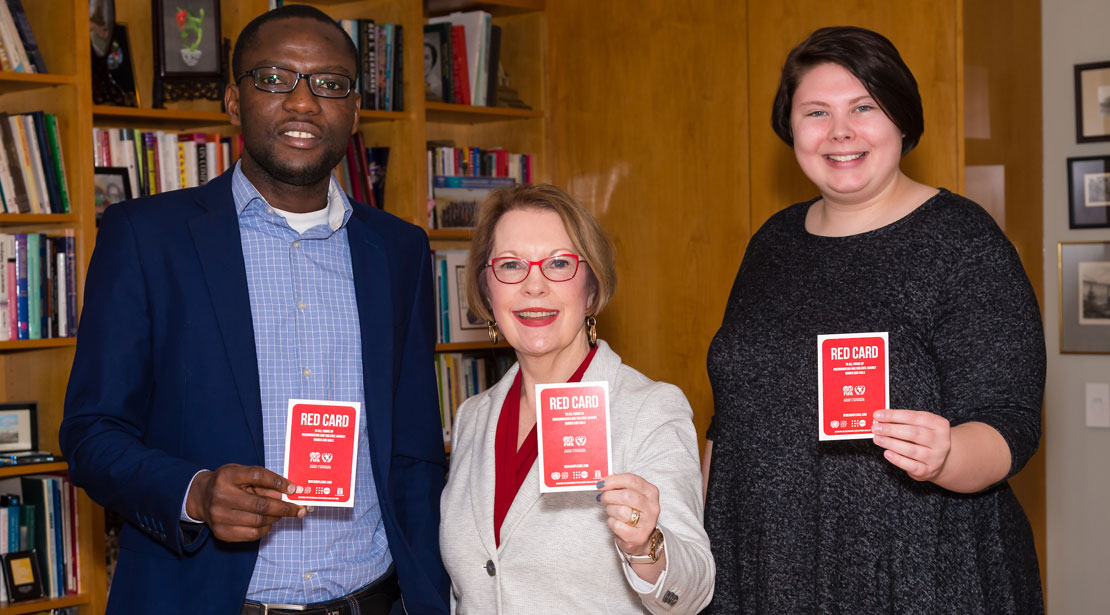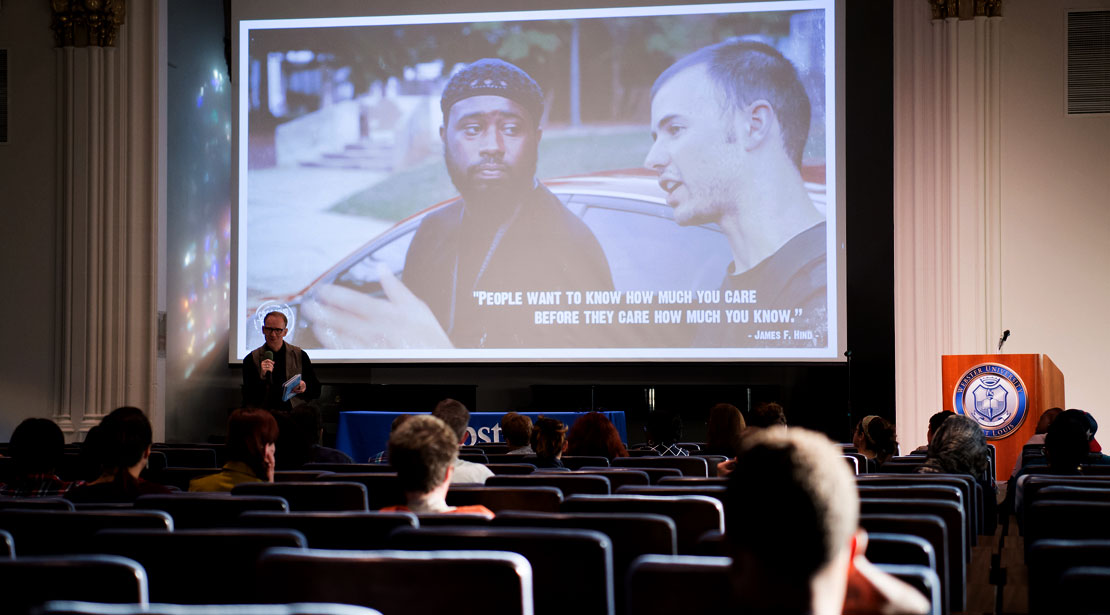 Human Rights Campus
We believe in the idea of a "human rights campus" at Webster, which means that human rights education is not only for our majors and minors. Our focus on undergraduate research and programming makes us a vital human rights focal point in the Midwest. Our events bring leading scholars and practitioners to campus with the aim of engaging in human rights dialogue throughout our community.
Undergraduate students share their research at our Research Across Disciplines (RAD) conference and human rights research papers and book reviews are published in the online journal Righting Wrongs: A Journal of Human Rights. We also have our own chapter of Amnesty International, which engages in campus activism throughout the academic year, as well as a variety of hybrid study abroad experiences around the world. Webster students also collaborate with a variety of non-governmental organizations to advocate for human rights in a plethora of ways, in St. Louis and beyond.
Earn a Degree in Human Rights
Webster is among only a handful of universities offering a degree in human rights, and we also have options for earning a minor or certificate. Our interdisciplinary program is taught by Institute Fellows from across academic disciplines, including from the fields of anthropology, history, legal studies, philosophy, photography, political science/international relations, and sociology. Our majors earn credit for practical field experiences — such as volunteering with resettled refugees, advocating for victims of human trafficking, addressing inadequacies in the foster care system, and fighting for reforms in the criminal justice system. Students also gain foreign language skills and research methods training in our program, as well as extensive knowledge of human rights challenges and potential solutions. These experiences are made possible by faculty members who are deeply committed to human rights education and advocacy.
The international human rights program at Webster University seeks to encourage greater understanding of international human rights standards, problems, and solutions.
This 18-credit hour minor in human rights is well suited to students with a strong interest in human rights but who are majoring in another subject.
More demanding than the international human rights minor but less demanding than the international human rights major, this certificate is well suited to students with a strong interest in human rights but who are majoring in another subject. As a stand-alone certificate, it is also appropriate for those students with a strong interest in human rights who have completed a BA or BS at another institution but who are not currently considering graduate or professional school.
Sam and Marilyn Fox Endowed Scholarship Recipient
"My Webster degree has taught me how to foster my passion for helping others in a productive way to help children all over the world."
Kamryn Moore
BA in International Human Rights, '22
Peer-Reviewed Human Rights Academic Publication
As a student-centered university, we provide our learning community many opportunities to engage in the world around them. Our department publishes "Righting Wrongs: A Journal of Human Rights," a peer-reviewed academic journal. Contributors use this space to explore human rights issues, challenge current actions and frameworks, and engage in problem-solving to tackle some of the world's most pressing problems.
Human Rights Resources
The
International Human Rights (HRTS) Advising Handbook (PDF opens in new tab)
is a resource for academic advisors, as well as for students seeking majors, minors or certificates in human rights. The handbook outlines program requirements, provides checklists of classes, offers a projected schedule of HRTS classes in St. Louis, and gives advice for students planning to study abroad.
The Human Rights Field Experience (HRTS 4500) is a 3-credit requirement for all undergraduate majors in International Human Rights, as well as for students earning certificates in human rights. Most students choose to fulfill this requirement through an internship or volunteer experience at a human rights-related organization. In special cases, this requirement may be fulfilled through directed research. Students should log at least 100 hours of work, as well as complete related academic assignments.
Generally speaking, "human rights" refer to the rights that are spelled out in the 1948 Universal Declaration of Human Rights, as well as associated international treaties and covenants. According to the Office of the High Commissioner for Human Rights, "Human rights are rights inherent to all human beings, whatever our nationality, place of residence, sex, national or ethnic origin, color, religion, language or any other status. We are all equally entitled to our human rights without discrimination. These rights are all interrelated, interdependent and indivisible.
Humanitarian studies, on the other hand, stem from international humanitarian law which addresses acceptable practices and actions during complex emergencies, particularly in armed conflict. Humanitarian studies thus involve issues dealing with the delivery of aid and assisting the victims of war, extreme poverty and natural disaster. Universal human rights are often expressed and guaranteed by law, in the forms of treaties, customary international law, general principles and other sources of international law. International human rights law lays down obligations of Governments to act in certain ways or to refrain from certain acts, in order to promote and protect human rights and fundamental freedoms of individuals or groups.
To learn more, visit:
There are countless non-governmental organizations (NGOs) dedicated to human rights and humanitarian work. An excellent resource for locating these organizations — along with volunteer opportunities, internships and job openings — is the Idealist website. A few NGOs to get you started include:
Human Rights Internship Opportunities in the St. Louis Area (PDF)
Children and Youth Services
These organizations focus on families and children, offering services like counseling for children and parents, foster care placement and free health care.
Community
These organizations work with community members to provide community resources and support services in a variety of areas, including education, housing and employment, to help them overcome social and economic difficulties.
Disabled Persons
Some nonprofit organizations help persons with mental, developmental, intellectual and physical disabilities. They offer life skills training, community living services, recreational activities and more for handicapped children and adults.
Domestic Violence and Sexual Assault
These groups tend to provide emergency assistance to victims of domestic violence and sexual assault. Typical services include 24-hour telephone help lines, walk-in clinics and safe houses. Other groups advocate for the rights of victims of sexual assault.
Education
Educational nonprofit groups often tutor children, teach adults to read and write and teach English as a second language to immigrants.
Elder Care
Elder care volunteer opportunities include helping senior citizens perform everyday tasks, like driving to the doctor or fixing dinner. Some nonprofits in this category help take care of elderly people with long-term illnesses like Alzheimer's disease.
Environment
This category includes nonprofits focused on environmental issues and the outdoors.
Ex-Offender Re-entry
These nonprofit organizations help ex-felons transition from prison into society by offering structured housing, skills training, employment assistance, and educational opportunities.
Health
Health-based nonprofit organizations often provide medical care to those who cannot otherwise afford it. Others help terminally ill patients and their families cope financially and emotionally with their illnesses. Organizations that help individuals with drug and alcohol addictions are also included in this list.
Homelessness
Most nonprofit organizations that combat homelessness operate shelters where people sleep and eat. Sometimes, they also help the homeless find jobs and low-rent homes and offer financial assistance.
Hunger
These organizations donate food to hungry individuals and families.
International
This category includes organizations with an international focus.
Legal Assistance
Legal advocacy nonprofits offer low-cost legal services to low-income residents. They often represent individuals in child custody, divorce and domestic violence cases. Some legal assistance groups specialize in helping children or the elderly.
Poverty
These organizations provide any number of services to the poor, including those relating to health, education, housing and economic development, with the goal of creating healthy lifestyles and prosperous environments.
Many nonprofit organizations oversee a broad range of activities, or give financial assistance to numerous charitable organizations. A nonprofit job seeker can start at the umbrella organization and read about its nonprofit members. Better yet, some nonprofit umbrella organizations maintain their own job databases.
Many of Missouri's nonprofit opportunities are listed in national or statewide databases of volunteer positions. The following websites list numerous nonprofit organizations in St. Louis.
Browning Hall
Browning Hall is located next to Pearson House off of Big Bend Boulevard at the northeast corner of the Webster Groves campus.
8274 Big Bend Blvd.
Webster Groves, MO 63119
Take a Virtual Tour of Browning Hall
News and Events
Experience Webster